I'm sure if you read this blog regularly, you'll have realized that we're an active family who enjoys getting outside and having fun. We hike, we dive, we ski and someday, I'd love for us to learn to surf, so I'm thrilled to feature a guest post from Nancy Solomon of Ciao Bambino with information on surfing in San Diego. Thanks Nancy!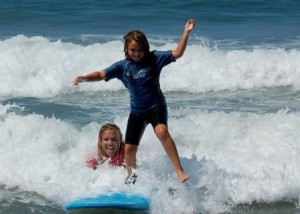 I grew up in San Diego, but now live in Boston with my four kids. Each year, we head west for a winter and summer break. I want my kids to understand where I came from and connect with their California roots. What better way to get in the California groove than surf camp?
Unlike many tourists who tend to cluster in areas like Mission Bay near Sea World, downtown, or in Coronado (also beautiful), my favorite area in San Diego is the North County specifically, La Jolla and Del Mar. These areas highlight the ocean while embracing a casual elegance that's hard to find. Both the easy access to outdoor activities, such as the beach and Torrey Pines State Reserve, coupled with the wide variety of local shops, restaurants, activities and of course, surf camps make this area perfect for families.
Like most, my kids are very high energy. Everyone, including my husband and me, does much better when we burn off some energy in the morning. Menehune Surf Camp was a terrific venue for this. We'd check the kids in and get them in their wetsuits- this part was always amusing! Then, my husband, younger son and I would take a great walk on the beach and come back to watch the last part of the session. The instructors are adorable and engage the kids with both surfing and fun games. The kids surfed for 3 hours and then we had the afternoons free to explore. So, not only did the combination of surfing in the morning and exploring in the afternoon work well, but now my kids have a skill very unique from most of their Massachusetts friends- great for bragging rights!
Check out my other posts about San Diego: San Diego- Top 5 Kid-friendly Excursions, and San Diego- A destination for all Seasons.
If you go to the Del Mar area, for activities try Torrey Pines State Preserve, Del Mar Fair and Race track (summer only), Sea Grove Park playground (on a lucky day, you can walk from Starbucks to the playground and push your child in the swings while watching the dolphins swim- can you tell this is my happy place?). For kid-friendly dining go to Pizza Port, Rubios, Roberto's, Del Mar Plaza (outdoor wine bar is perfect for sunsets), Java Depot and Stratford Court Café.
If you go to the La Jolla area, for activities try The Birch Aquarium and Childrens' Cove. For kid-friendly dining go to Pescador Fish Market, The Cottage, and The Brockton House.
Nancy Solomon is an avid traveler and writer for Ciao Bambino. She lives outside Boston and has four children 9,8,5 and 1 with whom she enjoys sharing the world.