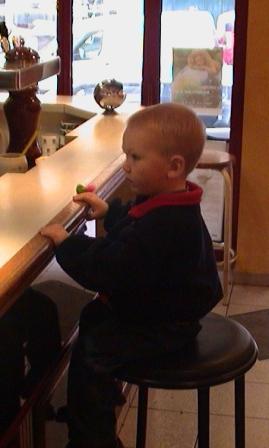 BigB, Paris 2002
Picture the scene: an extended family group enjoying a day in Paris before taking the train to historic Poitiers. It's about lunchtime and the group has stopped to review lunch options in a narrow street lined with small cafes. And then WanderMom notices that her two-year-old has slipped out of view. Frantic, she alerts the rest of the group and everyone's attention is immediately focused on finding the child. Within seconds, WanderDad starts laughing, pointing into a nondescript cafe-tabac just a couple of doors from where the group had originally been standing.
This little guy is a kid who just loves his eggs, and is very serious about his food. And he's a child, who even at two, was ready to take charge of his own destiny. While the adults were deliberating what and where to eat, he spied the customary wire rack of hard-boiled eggs on the counter of the cafe-tabac. Being used to high counter stools from home, he perched himself up on one and without a word of french was negotiating an egg from the proprietor when his Dad spotted him.
Wander on over to DeliciousBaby for more Photo Friday fun.
Related Posts
Travel Makes Kids Say The Funniest Things
Subscribe to this blog using RSS, email or follow me on Twitter.