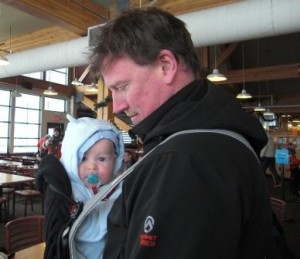 How to take your baby skiing
Meet Jay, who runs one of the equipment rental stores in Whistler. I met Jay and his family when we stopped for lunch on Blackcomb Mt during our New Year trip to Whistler. It was difficult NOT to notice him as he threw off his ski jacket and I realized that he was carrying a baby in a Baby Bjorn. It was also obvious that he had skied with the baby in the front pack.
I've heard about people doing this, but I've never met anyone who has. Jay explained that yes, he was a pretty experienced skier. He also cautioned that the resort doesn't sanction taking a baby skiing in a front pack. Still, to me, this is an example of how you can still do all the things you like to do – with an infant. As Jay said, "we don't ski the same way, it takes us longer to get out on the mountain and we don't ski the same terrain, but, for us, it was the only way we could keep skiing."
And the baby? Five months old, happy as a clam strapped to his Dad's chest with a healthy glow from all that fresh air.
Wander on over to DeliciousBaby for more Photo Friday fun.
I've also entered the contest on HomeAway to win a week at one of their fantastic selection of vacation rental properties. Check out my contest entry here, and if you like it, I appreciate your vote. Thanks!
Subscribe to this blog using RSS, email or follow me on Twitter.