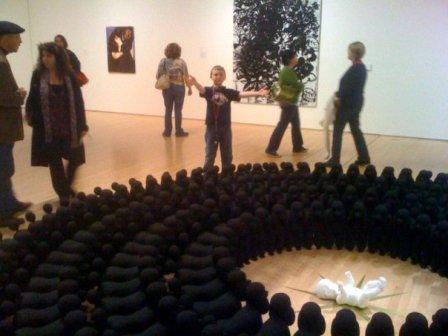 BigB posing with Katharina Fritsch's Baby With Poodles
I have a rant and a rave to report from my recent trip to San Francisco. My rave: using Expedia's package options, we stayed at the Westin San Francisco Market Street. The published rate for our room, a standard room with 2 Queen beds is $329/night. We paid about $110/night. Not to bad, eh?
This four-star hotel is beside the Yerba Buena Center for the Arts, with SFMOMA just a block away – much better than staying in the busy neighborhood around Fisherman's Wharf. Inspired by Debbie's stories of her visits to the Georgia O Keefe Museum in Santa Fe and the Chicago Art Institute with her preschoolers, I felt compelled to try out visiting SFMOMA with my (older, much more boisterous) boys. It was a huge success.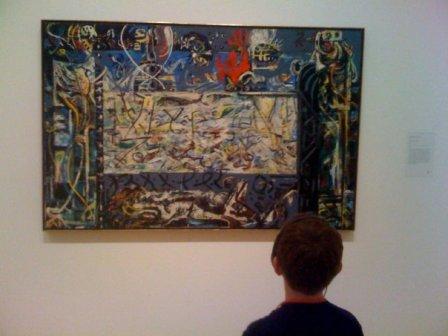 BigB pondering on Jackson Pollock's Guardians of the Secret
My rant: wireless internet access in the hotel was $14.95 per day. This is an absolute rip-off. Refusing to pay such ridiculous rates, I missed out on Photo Friday last week, but I'm glad to be back this week. Check out more fun and interesting travel photos and travel tales at DeliciousBaby.
Subscribe to this blog using RSS, email or follow me on Twitter.

Tags:sfmoma, travel, family travel