A little confession: I have a fairly haphazard collection of photos of trips taken with my kids over the past 12 years. I'm not a photographer and I regularly just plain forget to take my camera with me when I'm out and about. But I'm learning and I'm also working on cleaning up my digital library. As part of this, I discovered some photos which together provide a 'before and after' view of a long haul flight (Seattle to Melbourne) with two preschoolers and a toddler. It struck me that sharing these photos would be simple way to show what this travel experience really looks like – for anyone considering such a trip but wavering because of young children.
We've lived in U.S. since 1995 and since then we've traveled back and forth between the U.S. and Europe with our boys at least once a year. From the beginning, many friends here would shake their heads in wonder at our seemingly super-human abilities to manage little kids and jet-lag. We don't have any special abilities and our kids are not any better nor any worse than most children when it comes to flying. But, in our particular circumstances, traveling long distances to be with family was – and is – part of our life and part of our children's lives. How could we not go to my brother-in-law's wedding? Or rush to Ireland when my mom was diagnosed with aggressive breast cancer? Our trip tally between the U.S. and Europe so far:
Seven family wedding (just siblings!)
Four weddings of close friends
Two medical situations
One 40th birthday party
Three 'just vacations' – because it's easier for us to go there than to expect the rest of the family to come here
My first flight as a new mom (to Dublin) was hideous – mostly because of my inexperience and lack of preparation. The next was a little better. By the time we decided to travel to Australia with some friends and their two kids in 2000, we were old hands. The kids had their loveys, snacks, water and entertainment. They were in their PJs as we boarded the flight. We flew overnight so they would sleep. These and many other tips for long-haul flights with small children meant we had a fairly pleasant travel experience.

CAM and his buddy BG waiting at the gate: LAX, 11:30pm before boarding the flight to Melbourne.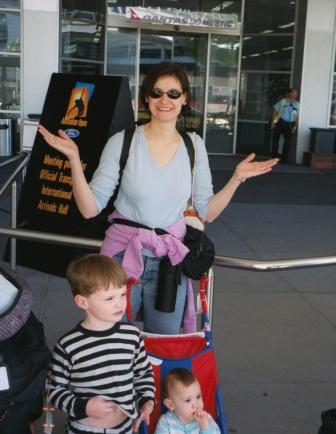 My travel-companion, Barbara, and her boys arriving in Melbourne.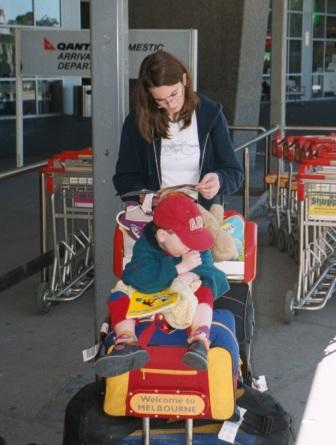 CAM and I after arriving in Melbourne.
Certainly this flight wasn't as easy as a two-hour trip within the U.S., but it wasn't hell-on-earth (or just above the earth) either. Traveling with children gets easier the earlier you start and the more you do it. No, they won't be as well-behaved as an adult on the plane, but they won't turn into monsters either. So, go for it. Stretch your wings. Pick a place you really want to visit and get your kids excited about visiting there too. You won't regret it.
Subscribe to this blog using RSS, email or follow me on Twitter.