We had two days in London to catch up with siblings. I needed a reasonably-priced hotel room which would sleep four people comfortably. I was going a little nutty after a few days searching for something suitable when a friend recommended the Novotel hotel at Tower Bridge. I checked out the Novotel website, loved the "convival family room for 2 adults and 2 children" and booked a room.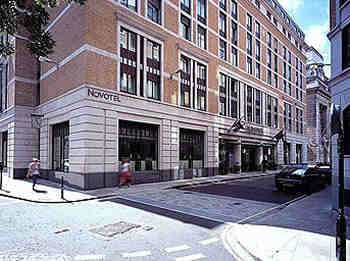 Hotel entrance.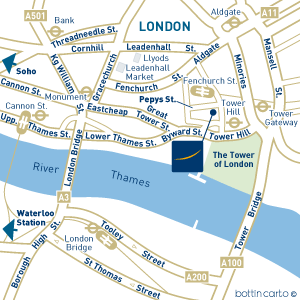 Location, location, location.
We took the train in from Gatwick and hopped out at London Bridge tube station. OK, so if you look at the map, you'll wonder why we didn't just get out at Tower Hill station. The District & Circle line was closed for the weekend – go figure. But it was just a short walk across Tower Bridge to the hotel.
The Novotel is tucked on the end of a street just around the corner from the entrance to the Tower Hill tube station. If you stand in front of the tube station and look to your right, you'll see the side entrance. (I'm just adding that because I couldn't find it, so I called and felt like an idiot when the person at the front desk instructed me to "walk two steps forward…look to your right…").
The location is killer. The Tower of London is literally right outside your doorstep. If you're in London with kids, don't have much time and want to get sightseeing right away, that's pretty darn convenient.
Which is a good thing because the "convival family room" we had was a shoebox. There was one double bed and one sleeper sofa. When you folded out the sleeper sofa, you couldn't walk between it and the bed. But it was clean and bright and the kids were free. Yes, that's right F-R-E-E. Can't beat that.
But the deal-clincher for my kids: there was a Playstation in the lobby. In fact, there's a kid's play area right in the lobby, with legos and some other sturdy toys for younger kids. And a Playstation in the corner. Last time I observed such riches in a hotel was at Disneyland. IMHO, the Novotel was better: I didn't have to deal with oversized mice or rodents or any other animals. Or the incessant happiness. But, WanderDad and I did get to have a nice drink at the bar one evening – with our children in sight, in their own happy place courtesy of Sony and Novotel.
Details
Website: www.novotel.com or seach 'novotel tower bridge' using your favorite search engine
Room Rate: GBP 244 (with breakfast). That's $428 at today's rate. Which may make you gulp, but just think, it would have been $512 last November. Who knows what you might end up paying ?
Subscribe to this blog using RSS, email or follow me on Twitter.