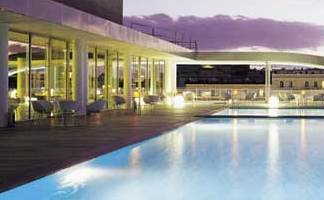 I like Radisson SAS hotels. Maybe it's the clean, sparse Scandinavian styling – almost as far away from my cluttered home as you could imagine. But, we didn't plan to stay at the Radisson in Rome. It sort of happened by accident.
We left Lucca, having just spent a fun but busy week with family, and decided to chill at the beach for a couple of days. I was a little disappointed that I wouldn't get to see my kid's faces as they explored the Colloseum, but it was hot, really hot and our attempt at sightseeing in Florence a couple of days earlier had been a disaster – because of the heat. Who expects temperatures over 90F in Italy in June, really? We took the train to Viareggio. Alas, we weren't the only ones planning to hit the beach that weekend and there wasn't a single hotel room to be had in the town. Where to now? Our kids were hot and sticky, sitting on their backpacks on a parking strip facing a beach, waiting for us to tell them it was OK to strip and dash into the water. But it was not to be.
We had wanted to leave the last few days at the end of our trip unplanned. I don't think either of us had imagined this happening. Maybe Rome wouldn't be so bad. I started reading the hotel listings in our guidebook. When I read that the Radisson had a pool, I flipped open my phone. Yes! They had a room available which would sleep four. The price was steeper than I would normally even consider, but this was a situation which required extraordinary measures.
What I liked about the hotel:
Location. Right next to the Termini Station. This might have been a problem except that its at the far end of the platforms, so the noise is not a problem. And you can walk across the street to get a Metro. Extremely handy if you're a tourist trying to use only public transit.
Room Size. We stayed in a hotel in London last year with a pull-out sofa for the kids. When the sofa was out, you couldn't actually walk between the bed and the sofa. Teeny. This room was positively American in size.
Cleanliness & Service. Scandinavian, duh! Well, with a slightly Italian twist.
The Pool. Turned out to be a full-size, unheated, roof-top pool. A perfect place to lounge about at the hottest part of the day.
What wasn't so good:
Location. The area around the Termini Station can be a little seedy. We spent our time either by the hotel pool or out exploring some of the prettier neighborhoods of the city.
Frightening electrical work in the hotel room. When you pulled a plug out from a socket, sometimes the whole socket came too – leaving wires carrying 200v dangling out of the wall. Not the safest around children.
The showers in the gym were cold. Not that I was using the gym or anything, but our room had a bath but no shower. When we'd checked in, I'd been OK with a bath thinking to myself that I could just use the showers in the gym if I really felt I needed a shower. Three cold showers later I was not impressed.
Summary
We found it a good base from which to explore Rome especially since we had a limited amount of time. The mini-suite which we used (sleeps 4) costs about $450/night – we did get a slightly reduced rate since we were booking last-minute. Alternatively, we were offered two adjoining rooms for $300/night each. There was a complimentary breakfast buffet every morning. This went along way towards offsetting the cost of the hotel in my mind – two pre-teen boys can eat a LOT of food.
The real test: would I stay there again? Yes, I think I would. Although next time I think I'll ask for a room with a shower 🙂