With only three more days until Christmas, it's a good thing that you've already crossed friends, family, and coworkers off your list, thanks to Wanderlush's gift guides for the home bartender and teetotaler alike, and you've also stuffed their stockings full of fun, flavorful surprises. But now comes the most difficult part: what to bring to that special holiday party to which you've been invited. From Christmas through New Year's, the next few weeks will be brimming with festive gatherings. And to me, nothing says "celebrate" more than a bottle of boutique spirits. So run, don't walk to your favorite neighborhood liquor store and pick up one of these scrumptious selections.
Christmas Spirit
When you said you'd be there with Christmas Spirit, you meant more than just a festive attitude. This limited edition 90-proof white spirit is double distilled from Anchor Distilling's 2012 Christmas Ale. Capturing the essence of the holiday, it features such seasonal scents as spices, clove, orange peel, and poached apple, and its warmth lingers on the palate with notes of spiced apple, baking spices, and dried fruit. Distribution is restricted to California only.
anchordistilling.com
Feisty Spirits American Roots Whiskey

What's the best liquor to drink on a cold winter's night? Whiskey, of course. And the whiskeys from Feisty Spirits, the first craft distillery in Fort Collins, Colorado, not only tastes great, but it helps warm the soul. American Roots gets it name and flavor from a root tea that is infused into a whiskey made from locally sourced milled. Featuring a strong nutmeg and allspice aroma, with wildflower notes, American Spirits starts out smooth, transitions into notes of saffron, and ends with a hint of anise. Available for in-store and online purchase at liquor stores throughout Colorado.
feistyspirits.com
Equality Vodka

Give the gift of good taste and social awareness with this 80-proof ultra-premium vodka. A portion of sales from every bottle goes to Lambda Legal, a national organization committed to achieving full recognition of the civil rights of lesbians, gay men, bisexuals, transgender people and those with HIV through impact litigation, education, and public policy work. Distribution is limited to Dallas, Texas.
equalityvodka.com
G'Vine Gin
The French are known around the world for their wine, but this new gin just might change people's perception. Produced in the region of Cognac, G'Vine is distilled from the Ugni Blanc grape—the first ever gin to use grapes as its base spirit–as well as macerated grape vine flower blossoms. G'Vine FLoraison (40% ABV) features vibrant floral notes but finished with a zesty mix of juniper and ginger. G'Vine Nouaison (43.9% ABV) is notably spicier, with notes of juniper and citrus.
escapetothegrape.com
J.R. Ewing Kentucky Straight Bourbon Whiskey
Your host will like an oil baron when you give him the gift of this four-year-old, 80-proof premium private-reserve bourbon. Bottled in the heart of Kentucky's bourbon country, J.R. Ewing bourbon is well-balanced with a light amber color. The nose is classic and slightly fruity with notes of vanilla, oak, and orange, while the taste is surprisingly mild, yet crisp, with a light spicy/honey taste that lingers. Available in select states. See website for more information.
jrewingbourbon.com
Howdy Stranger Vodka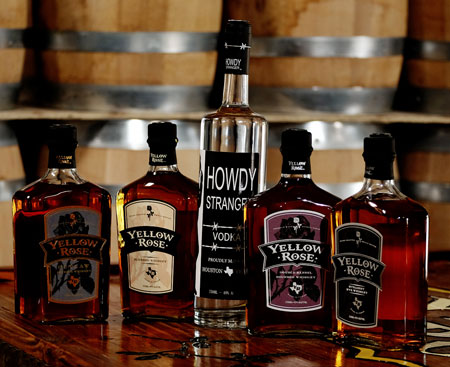 Houston, Texas-based Yellow Rose Distilling is known for its award-winning bourbons and whiskeys. Now it's making its first foray into white spirits with Howdy Stranger vodka. Made from 100% local corn, Howdy Stranger is distilled 12 times and charcoal filtered for maximum flavor, clarity, and enjoyment. Perfect for cold-weather sipping or mixing in crowd-pleasing cocktails. howdystrangervodka.com
Selvarey Rum
Rum is experiencing a renaissance as of late, and Selvarey is bringing an elegance and refinement to the spirit with its award-winning boutique Panamanian White and Cacao rums. Co-founded by singer-songwriter Bruno Mars, Selvarey was born out of a desire to create a refined sipping rum. The company collaborated with legendary master blender and former Cuban Minister of Rum Francisco "Don Pacho" Fernandez to formulate the perfect recipe. Selvarey White (40% ABV) features notes of citrus, oak, and honey; while Selvarey Cacao opens with notes of toffee, cardamom, and toasted oak, and finishes on the palate with a charming but not overly sweet chocolate aroma. Available nationwide through Hi-Times Wine Cellars.
selvarey.com
American Born Moonshine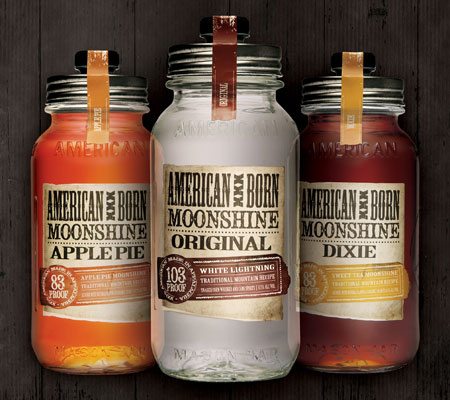 Nothing is more American than distilled spirits, except perhaps football and the Marines. So it was only natural that in 2012 former Notre Dame quarterback Patrick Dillingham and former U.S. Marine Corps captain and Iraq War veteran Sean Koffel founded American Born Moonshine. This family of moonshine products honors the tradition of authentic mountain moonshine and the patriotic Amercan rebel spirit. It is available in three flavors: Original, a 103-proof, un-aged corn whiskey that offers a smooth finish and remarkable mixability; Apple Pie (83 proof) with its natural apple and cinnamon flavors and a hint of caramel; and Dixie (83 proof), the first-ever sweet tea-flavored moonshine. Available mainly in the Southeast and in the West.
americanbornmoonshine.com
Veni, Vidi, Bibi!
—Rebecca