Yesterday, Wanderlush Diary offered you a selection of stocking stuffers perfect for drink-lover in your life. Part 2 of our four-day holiday gift guide features some suggestions for gifts for under the tree, as well as some great accessories for those who are heading home for the holidays or who are simply heading across town for that fabulous party. These gifts will bring a smile to even the most grouchy of Grinches.
The Homemade Gin Kit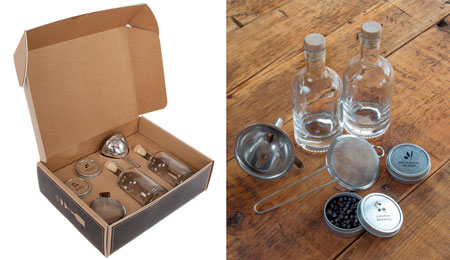 Step away from the bathtub! Now you can make gin safely and legally at home in just 36 hours with The Homemade Gin Kit. The kit provides you with just about everything you need to make a fresh, delicious gin. All you need to add is the vodka. Each kit comes with two 375-ml glass bottles, "gin-gredients" (juniper berries and a special botanical blend), stainless steel funnel, strainer, and instructions.
$49.95
homemadegin.com
Upcycled Spirit Decanters
by Reclamation Etchworks
Once destined for a landfill or recycling center, these upcycled decanters add a touch of old-time sophistication to any home bar. Salvaged from restaurants in San Francisco, each bottle is cleaned and sanitized before being permanently etched with Deco/Nouveau-inspired artwork. Beautiful and eco-friendly! The Variance Set with its uniquely shaped bottles features Bourbon, Genievre (Gin), Agave, and Rhum, while the Constance Decanter offers a consistent shape and includes such spirit titles as Rye, Scotch, Whiskey, Cognac, Absinthe, and Vodka.
Variance Set: $199; Constance Decanter: $39/single bottle, $99/set of 4
reclamationetchworks.com
Shake, Stir, Pour
by Katie Loeb
Do you love creative, flavorful cocktails but hate using all of the overly sweet, artificially flavored spirits and mixers available in your local store? Well then, this book is for you (or any home bartender on your list). Created by one of Philadelphia's top mixologists, you'll learn how make farm-fresh versions of your favorite drinks. You'll also learn how to make your own syrups, infusions, and bar basics. Once you've tasted fresh, you'll never go back.
$24.99
amazon.com
Bloody Mary Crate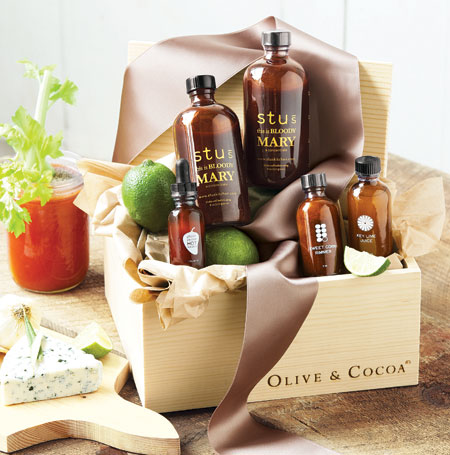 by Olive & Cocoa
Everything you need to make this classic cocktail: two eight ounce bottles of sour pickle brine Bloody Mary concentrate, plus ghost pepper hot sauce, key lime juice, and sweet corn rimming salts. Simply add your own tomato juice and spirits, and stir! Fixings for about eight drinks plus recipe cards all come gift wrapped together in a hand-crafted wood crate with ribbon.
$68
oliveandcocoa.com
Wine Caddy
by Ame & Lulu
For the discerning wine drinker, accessories brand Ame & Lulu now offers the stylish Wine Caddy. This sturdy canvas tote features a top zip closure, padded liner, and interior zip pocket. It comfortably fits two wine or spirit bottles with room for personal items or even cheese or fruit. Carrying beverages has never been this chic.
$56.00; embroidery available for an additional $30
ameandlulu.com
Cocktail Bitters Traveler's Set
by The Bitter Truth
Travel, especially air travel, can challenge even the most dedicated professional or at-home bartender, especially when it comes to transporting key ingredients. The Bitter Truth Traveler's Set fits perfectly in carry-on luggage, ensuring that you'll never again miss creating your favorite drink in-flight or at your destination. The set includes five 20-ml bottles in five flavors: Celery, Old Time Aromatic, Orange, Creole, and Jerry Thomas bitters
$19.99
Available in fine liquor stores nationwide
the-bitter-truth.com
Hammered Copper Moscow Mule Mugs
by Olive & Cocoa
Moscow Mules are the in drink this season, and there's no better way to enjoy the refreshing cocktail classic than with these chic copper mugs. Made from beautiful tarnish-free copper with hammered detailing, the mugs feature brass handles and nickel linings to keep beverages perfectly chilled. Each mug holds 16 ounces and sets of two or four mugs plus unique recipe cards come beautifully gift wrapped in a hand-crafted wood crate with ribbon.
$118/set of 2; $188/set of 4
oliveandcocoa.com
Jelly Shots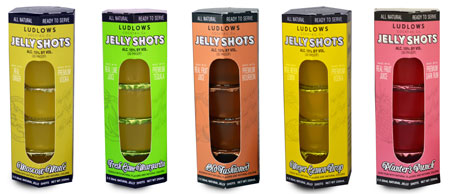 by Ludlow Cocktails
Remember how much fun jello shots were when you were younger? But then you grew up and developed a more sophisticated palate. Well now jello shots have grown up, too. Ludlow's 30-proof, all-natural, prepackaged Jelly Shots are made with premium spirits—like 2-year barrel-aged straight Indiana bourbon whisky, 100 percent agave blanco tequila, and 2-year barrel-aged dark Trinidad rum—and real juices. Five flavors are available: Old Fashioned, Moscow Mule, Meyer Lemon Drop, Planter's Punch, and Fresh Lime Margarita. Serve a selection at your next holiday gathering or give some as hostess gifts or stocking stuffers.
$12.95/5 pack
ludlowscocktails.com/products/
"Travel Around" Wine Gift Set
by Millesima
A vacation to may be out of your gift-giving budget, but now you can send your loved one's taste buds on a memorable journey with French wine merchant Millesima's Wine Gift Sets. Send wine lovers on a liquid escape to such wine regions as Bordeaux, Burgandy, Champagne, and Italy. Each gift package is available in either three- or six-bottle sets and includes an informational leaflet and gift-wrapping. The six-packs also include a resuable grey linen wine travel tote.
Prices vary from $90/three-bottle Bordeaux Discovery set to $660/six-bottle Bordeaux Connoisseur set
millesima-usa.com
Faces Bar Set
by WMF
Bar tools are a must-have item for any home bar, but who says that they have to be boring. This cute set is not only functional, but the fun characters will bring a smile to all of your guests. Made out of polished Cromargan stainless steel and designed by Mattheo Thun, this unique seven-piece set includes a stirrer, bar knife, bottle stopper, strainer, ice tongs, and measure, as well as an attractive holder.
$149
MoreThanKitchen.com
Stubby Strip Vino
The hottest product in Australia has now made its way stateside. The Stubby Strip Vino offers an easy, comfortable way to carry up to four bottles of wine—or for the cocktail enthusiast, a shaker, two bottles of liquor, and a mixer—while the high-quality neoprene keeps bottles cool. Best of all, bottles won't accidentally fall out. Perfect for parties, picnics, camping, travel, tailgating, the beach, boating, or just about any occasion you can think of. Stubby Strips are also available in 7-drink sizes (shown), perfect for beer, soft drinks, and water bottles.
$29.95
stubbystrip.com
LIQS Cocktail Shots
You'll be the life of the party when you bring along LIQS super-premium, ready-made cocktail shots. These individually packaged drinks are perfect for gatherings where there is no bartender, like beach parties, tailgating, camping, BBQs, and much more. Simply chill on ice and serve. Four signature flavors are available: Tequila-Cinnamon-Orange, Vodka-Cucumber-Lime, Vodka Kamikaze, Vodka-Lychee-Grapefruit.
Currently available in stores in Massachusetts, Florida, and Texas, or online.
$9.99/1 pack of three; $17.95/2 packs of three; $35.95/12 shots
liqsshot.com
Genesis Champagne & Wine Preserver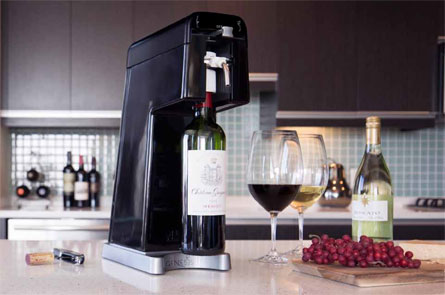 by Napa Technology
Have you ever opened a bottle of wine, had a glass, and then decided that you don't want to finish the entire bottle? Now you don't have to worry about letting any of that leftover wine go to waste. The Genesis wine preservation system will preserve opened bottles of wine for up to two months. Open bottles of champagne or sparkling wine will last for five to seven days. It's the perfect gift for the oenophile who has everything.
$499; additional IntelliCorks and WineGas capsules sold separately
genesispreserve.com
Veni, Vidi, Bibi!
—Rebecca