One of the things I really wanted to do on my recent visit to Curaçao was to tour Landhuis Chobolobo, the factory that produces the island's eponymous drink: Genuine Curaçao Liqueur. After all, what's the first thing that comes to mind when you hear the word "Curaçao?" Caribbean? Maybe. Snorkeling? Perhaps. Colorful cocktails made with Blue Curaçao? Absolutely!
Sadly, the factory was closed during the few short days that I was in Willemstad, the country's capital and a favorite tourist destination, thanks to both a bank holiday and a lack of weekend hours. To say that I was disappointed was putting it mildly.
But then I learned of another island specialty: green rum. I was beginning to sense a trend. It seems the people of Curaçao like their spirits like they like their buildings: colorful. But unlike Blue Curaçao, which is a staple of every bar menu from Knip Beach to Caracas Baai, there was only one place I could get green rum. So I grabbed my friends and our driver and headed to the famous Netto Bar.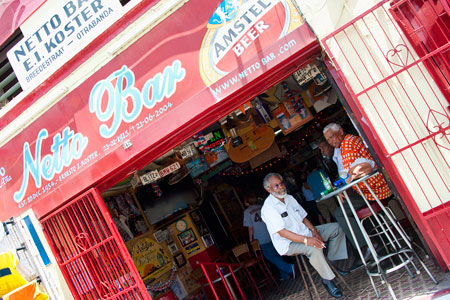 Located off the tourist path in the Otrobanda neighborhood of Willemstad, Netto Bar is a tiny hole-in-the-wall joint with a decidedly local flavor. Opened in 1954 by local resident Ernesto (Netto) Koster, Netto Bar has been serving its "world famous" house-made Rom Berde (Papiamento, the native language of Curaçao, for "green rum") since its earliest days. According to Netto Bar's history, Netto created the drink when he was a young boy.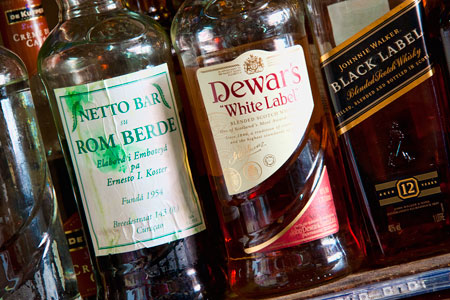 Not knowing what to expect, I sidled up to the bar and asked for my very own Rom Berde. Without even so much as a hello, the grumpy bartender (remember, this joint doesn't cater to the tourist crowd) grabbed some plastic cups, filled them with ice, and proceeded to quickly pour measured shots of the brightest green liquid I've seen this side of antifreeze. I sniffed my cup. Sweet….very sweet. I tasted a sip. So this is what antifreeze tastes like.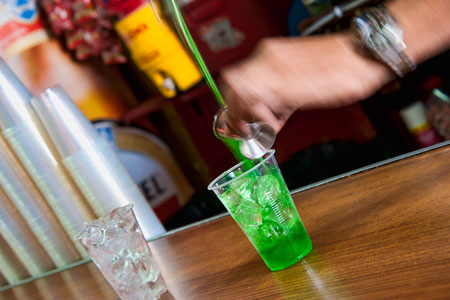 Okay, so maybe it wasn't antifreeze. After all, I'm still alive. But Rom Berde tasted unlike any rum I've ever had before. If I had to compare it to anything, I'd say it tasted a bit like Jägermeister. Or Nyquil. Good old classic green Nyquil.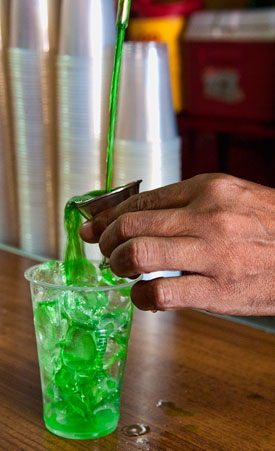 Of course, my barkeep wouldn't let me in on the rum's secret ingredients.
"What exactly is 'green rum'?"
"Rum."
"Um, okay, but what makes it green?"
"Green."
Blink, blink.
I asked again. "What makes it green? What gives it its color?"
You guessed it.
"Green."
At that point, I gave up, grabbed my drink, and joined my friends at a small table near the bar. In the end, while the drink wasn't to my taste—supposedly it's more palatable when mixed with coconut water—I definitely enjoyed the ambiance away from the tourist-focused restaurants and bars. Netto Bar is the ultimate island dive bar—a fun, laid-back place to go when you're looking to escape the hordes of cruise-ship passengers. Here, you can relax, check out a game on the small TV that hangs over the bar, and enjoy a Polar beer or, yes, even a shot of day-glo green rum. I'm glad I visited, if only for a brief moment.
But I never did find out what was in Rom Berde.
Veni, Vidi, Bibi!
—Rebecca
All photos © Rebecca L. Rhoades
My visit to Netto's Bar was part of a sponsored media trip. All opinions, however, are my own.