"Shaken, not stirred."
We all know this famous line from many James Bond movies. It's how our spy hero preferred his martinis. And this Thursday, June 19, bartenders across the country will probably be hearing that phrase over and over and over again, much to their chagrin, as we celebrate National Martini Day.
But what exactly is a martini? And was 007 risking incurring the wrath of his favorite barkeep by asking for it stirred?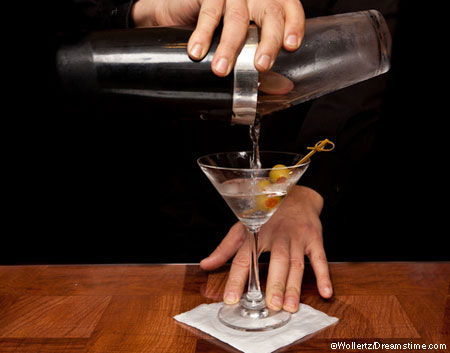 For some guidance, I turned to one of Philadelphia's top bartenders, Katie Loeb,  cocktail creator extraordinaire and author of Shake, Stir, Pour: Fresh Homegrown Cocktails. Traditionally, a martini is made with gin and vermouth, and garnished with an olive or a lemon twist. Loeb agrees.
"A martini is Old School. It's gin, not vodka, and it absolutely has vermouth in it," she says. "It can also contain a drop or two of orange bitters." And for a garnish? Loeb recommends "really good housemade cocktail onions; olives; or a twist of lemon, orange, or grapefruit as the drinker likes."
As for James Bond, well, lets just say he's probably not a bartender's best friend (although shaking is so commonplace that it's considered normal by many). Shaking a martini leaves the drink cloudy; stirring retains the texture of the ingredients, and the drink remains clear. The late British playwright and novelist W. Somerset Maugham is known for saying that "a martini should always be stirred, not shaken, so that the molecules lie sensuously one on top of the other." For Loeb, a martini "needs to be stirred until it's the texture of motor oil."
FUN FACT: I'll bet you didn't even know that a shaken martini isn't even a martini at all. It's a Bradford.
While recipes vary according ratio of gin to vermouth, ranging anywhere from 3:1 to 12:1 or more, the most common is 2 oz. gin to 1 oz. vermouth. In his 2008 book Everyday Drinking, the late great British writer Kingsley Amis wrote, "Rockefeller and his chums probably drank equal parts of gin and vermouth. Since then, people have come to prefer their Martinis drier and drier, i.e. with less and less vermouth. Sixteen parts gin to one vermouth is nowadays considered quite normal. Anyway, that's about how I like it. Finding out by experiment the precise balance you favour is no great ordeal. Don't hurry it."
Another tip for making the best martini: Pre-chill the glass prior to cocktail hour. I recommend leaving a glass in the freezer for a couple hours before use. This helps the drink remain cold (another reason why some people prefer shaking to stirring; shaking increases convection, making the drink colder than if it were stirred).
So however, you like it—dry, dirty (with olive juice or olive brine), or perfect—this Thursday, make sure to tip your glass to the drink writer H.L. Mencken called "the only American invention as perfect as the sonnet."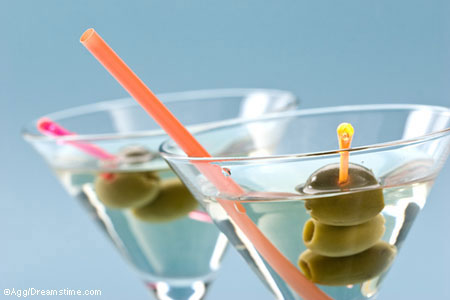 And coming on Thursday: In recent years, there has been a big trend towards incorporating other spirits, such as vodka or even flavored liquors in so-called martinis. These "-tini" drinks are named after the cocktail glass in which they're served, and while they may not be "martinis" in the truest sense of the recipe, there's no denying that they're extremely popular. So if you're not a fan of gin, vermouth, or olives, check back for a selection of some fun, colorful, and downright delicious "Faux-tinis."
Veni, Vidi, Bibi!
—Rebecca