When it comes to dining, Las Vegas has a long and varied history. But from its days of $5.99 all-you-can-eat buffets to its more recent love affair with celebrity chefs and just about every chain restaurant you can think of, the city has never really been known for culinary creativity—at least when it comes to feeding the hordes of tourists who flock to the Strip every year to try their luck in the many over-the-top casinos.
Until recently.
At the forefront of this new food outlook is restaurateur Billy Richardson of Block 16 Hospitality. Las Vegas native Richardson—if his name sounds familiar, perhaps it's because his father Bill built some of the biggest resorts on the strip, including the Mandalay Bay Resort, The Hotel at Mandalay Bay, and The Monte Carlo, to name a few—got his start in the hospitality industry with the opening of RA, the city's most popular nightclub in the late '90s at the Luxor. Now he's turned his attention to creating a veritable restaurant empire built entirely on unique, only-in-Vegas joints, including Holstein's at the Cosmopolitan, The Barrymore at the Royal Resort, Public House at The Venetian, The Blind Pig at the Panorama Towers and Haute Doggery and Flour & Barley at The Linq.
I recently had a chance to visit these establishments and sample many of the dishes as well as down a variety of beverages, from healthy homemade juice blends to creative cocktails to pairings that would please even the most hipsterish of craft beer enthusiasts.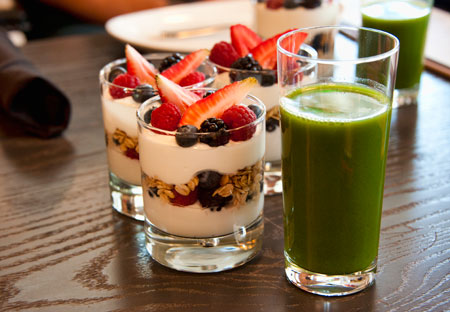 No breakfast at The Blind Pig is complete with the Green Monster (above). This healthy morning pick-me-up is made of kale, spinach, cucumber, celery, apple and parsley. It's shockingly green but surprisingly tasty, with a tangy apple sweetness. It would go great with WanderFood's perfect French Toast.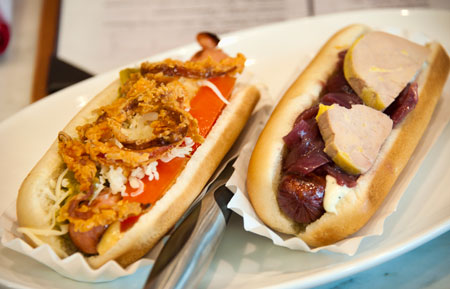 For lunch, head over to The Linq, where in addition to riding the High Roller, the world's largest observation wheel, you can enjoy some wild wieners at Haute Doggery. From the Naked Kobe to the Detroit Coney Classic to the Tijuana Dog, Haute Doggery offers 11 "retro dogs," as well as 10 "haute dogs." Shown above are El Machete (char grilled frank, roasted green chilies, borracho onions, pepper jack cheese, tomato and Spicy Machete sauce) and the Billionaire Dog (grilled Kobe beef frank, Foie Gras torchon, port onion marmalade and truffle mayo).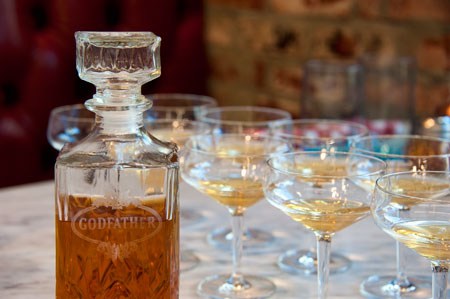 While you won't find any alcoholic beverages at Haute Doggery, you will at nearby Flour & Barley, Block 16's sports-and-Americana-themed Italian eatery, where the seats are made from recycled baseball gloves, metal bleachers decorate the ceiling, and a giant American flag crafted from baseball bats and balls highlights a back wall. Stop in for a round of the house cocktail, The Godfather. This sinus-clearing tipple features St. George Breaking & Entering bourbon that's been barrel-aged for 30 days in 12-liter barrels that were soaked in Amaretto for seven days. Delicious! Eleven other signature cocktails grace the menu, including such fun-named concoctions as Blue Ball Suprema (citrus vodka, cointreau, lemon juice, topped with blueberry Red Bull), Chunky Watermelon (Davalos tequila, cointreau, lime juice, agave nectar, and fresh watermelon), and Summer Prelude (Sapphire East, Luxardo cherry molacca, Yuzu citrus, simple syrup, egg white, and a dash of Peychaud bitters).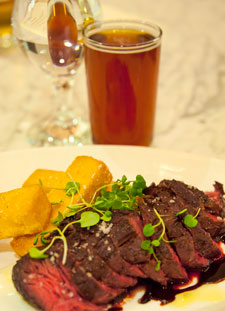 Perhaps beer is more your thing. If so, then Public House is the place for you.  This gastropub—the first in Las Vegas—features an ever-changing selection of 24 beers on tap and a bottle list more than 300 long. Best of all, cicerones (think sommeliers of beer) are on-staff to help you choose the best pairing for your meal. For my three-course luncheon, I started with the grilled octopus salad paired with Firestone Walker's Pale 31 ale. The hoppiness of beer paired well with the acidic lemon vinaigrette, while the malty flavor was balanced by the chick peas and cherry tomatoes. Next up was hanger steak and polenta-and-goat-cheese fries, paired with Lagunitas 2010 Olde GnarlyWine. Aged for two years in bourbon, brandy, and rye barrels, the 10.6% ABV drink is surprisingly mellow yet stands up well to the protein-rich meal. Finally, for dessert, I had an olive oil cake topped with a Greek yogurt semifreddo, strawberry ice cream, blueberry fricasse, and an almond cookie. It was paired with what is probably the most unusual beer I've ever tasted. Made by Italian brewery Birrificio del Ducato, My Blueberry Nightmare is a stout brewed with hot chili and aged for two years in whisky barrels with blueberries and pediococcus, a bacteria that gives it an acidic, almost sour taste. Right off the nose, it smells like balsamic vinegar with a little bit of vanilla sweetness. At the back end, you get nuances of the stout, including dark chocolate and roasted coffee. Amazing, completely out of left field, and very intense.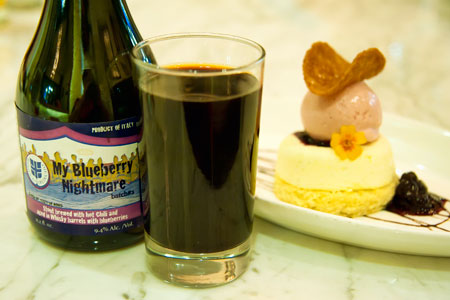 Finally, for dinner, I'd suggest either Holstein's or The Barrymore.
Holstein's is more hip and casual, offering a selection of "bad-ass burgers" in both slider and normal size, as well as an array of awesome finger foods, including fried pickles, Cuban street tacos, Philly cheesesteak egg rolls, and my favorite, the shrimp & grits hush puppies. But what you really want to try here are the cocktails. From the Berry Fresh (St. Germain, fresh lemon juice, Skyy citrus, Stoli Strasberi, simple syrup, and muddled strawberries), to the Pumpkin Revery (Smirnoff Whipped vodka, pumpkin puree, pumpkin-cream liquor and half & half, served with a graham cracker rim), to the Ginger Julie (muddled mint and lemon, ginger beer, Pendelton Canadian whiskey), there's something to tempt everyone's taste buds. Or you could always enjoy one of the more than 100 beers available. Even dessert kicks it up a notch, with "Bam-Boozled Shakes" for the kid in each of us. Below are the Red Velvet Cake Shake with Zing Red Velvet vodka, red velvet cake, cream cheese mouse, and a mini red velvet whoopie pie; and the Drunken Monkey, with Reese's, banana, malt, and Frangelico. What you don't see is the Vegan Coconut Rasberry Shake, with coconut sorbet, raspberries, Skyy Raspberry vodka, 3 Olives Coconut vodka, and toasted coconut marshmallows, because it was just so good that it disappeared quickly.
Finally, The Barrymore, which is located a block off the Strip, is a throwback to old-school Hollywood glamour, complete with oversized velvet booths, dark metallic wallpaper, chandeliers, and shiny metal film reels on the ceiling. The cocktails are also old-school. Appease your inner Don Draper or Peggy Olson with one of a dozen different martinis, the eponymous The Barrymore (Gentleman Jack, Solerno blood orange liqueur, orange bitters, Cocchi vermouth di Torino, orange marmalade, and orange zest), a classic Moscow Mule, or (seen below) The Royal (New Amsterdam vodka, fresh strawberries, simple syrup, Prosecco, and a lemon twist), or Blue Something (Skyy Ginger vodka, lime juice, simple syrup, mint, and blueberries).
So the next time you travel to Sin City and you want something really good that you can't find at your local mall, forget about going to Guy Fieri's latest Vegas venture and check out what you can find when you step away from the slot machines and gamble on flavor. And don't forget to tell them that Wanderlush Diary sent you.
Veni, Vidi, Bibi!
—Rebecca
All photos by Rebecca L. Rhoades