The art of craft cocktails and mixology is at an all-time high. It seems like everyone suddenly wants to know how to make fun, creative mixed drinks using the freshest all-natural ingredients. As a result, many bars, hotels, and resorts now offer specially designed classes for their guests that allow them re-create one of the establishment's already popular libations or make their own using a limited list of ingredients.
On a recent visit to the L'Auberge de Sedona in Arizona, I had the chance to partake in such an activity with a small group of food journalists and the resort's managing director, Greg Hanss. And this one had a very special Sedona twist. Instead of hitting the bar, we headed outdoors, the perfect place to be on a warm spring evening.
The L'Auberge de Sedona is located on the banks of the Oak Creek River, and on the Cottageside Lawn in a small opening in the trees on the edge of the burbling waters, L'Auberge mixologist Connor Barrett and Executive Chef Rochelle Daniel had set up a small table with bar tools, fresh fruit, and an array of liquids and liqueur.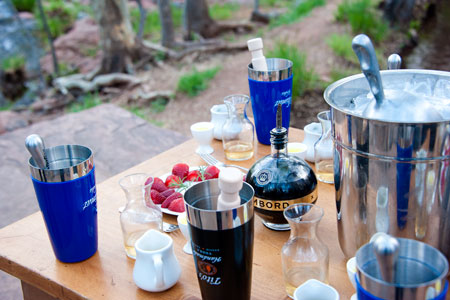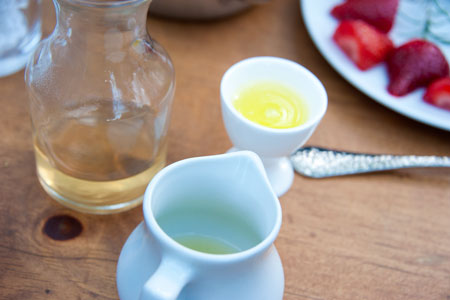 As Connor explained the ins and outs of muddling (mashing the ingredients to release their natural flavors with the use of a muddler—a large stick similar to a pestle), described Chambord (it's a black raspberry-flavored liqueur), and showed us how to get a nice seal on our glasses so we wouldn't make a mess as we shook the ingredients, we laughed as we tried to come up with a name for this fruity new drink. The final consensus was Connor's Creekside Smash (see recipe below).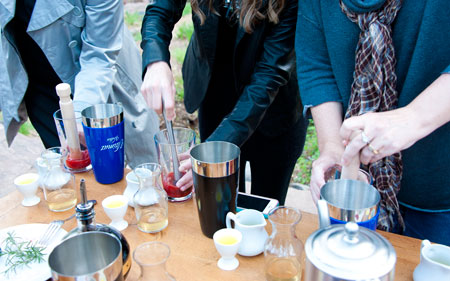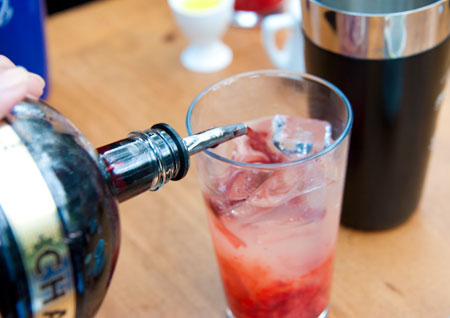 "I really try to use as many natural ingredients as possible," said Connor when I asked him about his decision to use house-made gin instead of a brand name. "That extra step really makes it special."
And special it was. The drink was fruity but not overly sweet, and the splash of soda water added a refreshing sparkle. The perfect spring drink to toast a perfect Sedona sunset.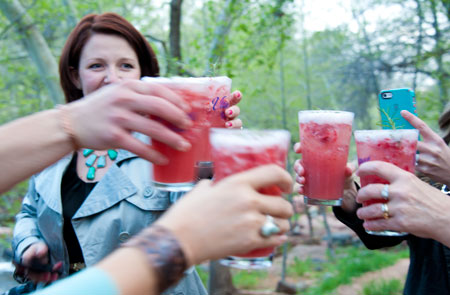 So what do you think? Do you enjoy farm-fresh cocktails? And would you ever take a cocktail class while on vacation? I'd love to hear your thoughts, as would the L'Auberge. Currently, the L'Auberge doesn't offer creekside mixology as a regular activity for its guests, but perhaps we can get them to change their minds.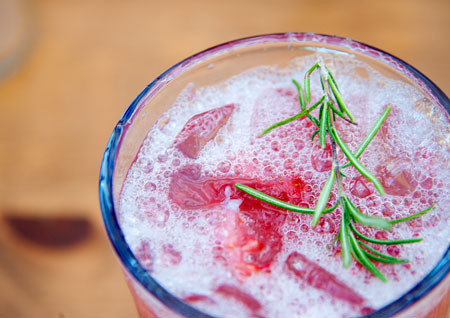 Connor's Creekside Smash
2 oz. gin (we used Connor's house-made gin, but you can use your favorite brand)
1 large strawberry
¼ oz. Chambord
Teaspoon of lemon juice
Teaspoon of agave nectar
Teaspoon of pasteurized egg whites
Soda water
Muddle strawberry in a highball glass. Fill glass with ice. Add gin, Chambord, lemon juice, agave nectar, and egg whites. Shake thoroughly. Top with a splash of soda water. Garnish with lemon twist and fresh-cut rosemary.
About the L'Auberge de Sedona
Located on the banks of the Oak Creek River, the L'Auberge de Sedona is a luxurious yet serene resort nestled among Sedona's world-famous Red Rocks. Forget massive structures with impersonal lobbies and long corridors lined with rooms; this AAA Four-Diamond property features individual cottages and suites, either Creekside for a more woodsy feel or Vista with views of the majestic rock formations.
The resort's on-site restaurant, L'Auberge Restaurant on Oak Creek, offers fine dining with a local touch. Many ingredients are grown on-premises, and Chef Rochelle Daniel takes great pride in sourcing high-quality, local ingredients for her ever-changing seasonal menus. Connor Barrett takes the same approach when it comes to his drinks, using all-natural ingredients, from homemade simple syrup to organic lime juice (for a truly tasty margarita).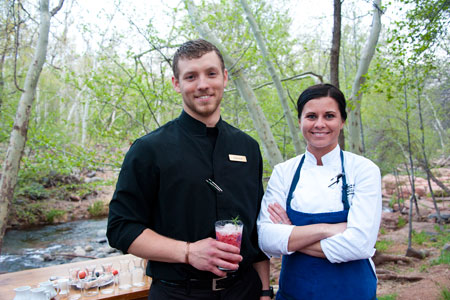 Specialty cocktails at L'Auberge de Sedona cost $14–$15. For more information, visit lauberge.com.
Veni, Vidi, Bibi!
—Rebecca