Did my first collection of candy-inspired cocktails satisfy your Easter sweet tooth? No? Well then, go grab that basket and get ready for another round of sensationally sweet liquid treats.
CHOCOLATE BUNNY
Courtesy of Kwandwe Private Game Reserve, South Africa
1 oz. Frangelico
1 oz. Kahlúa
1 oz. Amarula*
4 oz. cream
½ cup ice
Chocolate sauce
Add ice, Frangelico, Kahlúa, Amarula, and cream to a cocktail shaker. Shake until the shaker is ice cold. Swirl chocolate sauce inside a large serving glass. Pour contents of shaker in the glass. Garnish with crushed chocolate eggs and Easter decorations.
*Amarula is a cream liqueur produced in South Africa using the unique African marula fruit. If unavailable, Bailey's Irish Cream can be substituted.
 I have to admit that this cocktail made me smile. It caters to the chocolate-loving kid inside us all.

PEEPS PEACH POOL

Created by Jordan Catapano, author of This Girl Walks Into a Bar and expert mixologist for BevMo!, a leading alcoholic beverage-lifestyle specialty retailer.
1½ oz. Pinnacle Peach vodka
2½ oz. margarita mix
½ oz. Blue Curacao
¼ oz. mint simple syrup
Blue Peeps
Fill a martini shaker with ice. Add the vodka, margarita mix, Blue Curacao and mint simple syrup to the ice, then shake for several seconds to mix. Strain into a martini glass, and garnish with a blue Peeps.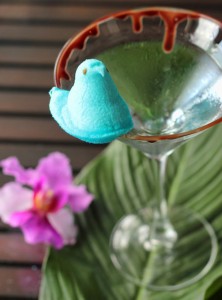 CHOCOLATE-COVERED MALASADA
Courtesy of Lava's on Poipu Beach at Sheraton Kauai Resort, Hawai'i
1 oz. 360 Glazed Donut vodka
1 oz. 360 Double Chocolate vodka
Chocolate sauce
Peeps for garnish
Mix vodkas and ice in a shaker, and shake until cold. Dip rim of martini glass in chocolate sauce. Strain drink into glass. Garnish with a Peep for Easter flair.
ONE HOPPY PARADISE PLUM

Courtesy of Couples Resorts, Jamaica
1 oz. cherry brandy
2 oz. coconut rum
2 oz. pineapple juice
Jellybeans
Slice of lemon
Shake ingredients and ice, and serve in a hurricane glass. Sprinkle jellybeans on top, and garnish with a slice of lemon.
And finally, if you really want to impress your friends, here's a little something for the serious home bartender. It takes a little time and planning, and beyond the standard bar tools, you'll need a Porthole infuser, KitchenAid mixer, piping (pastry) bags, and a gram scale, but the end result is molecular magic. And besides, the Peeps-filled Porthole infuser will look pretty darn cool sitting on your counter.
MOONSHINE-CLEMENTINE FIZZ
Courtesy of Shikany in
Miami, FL
Peeps Moonshine
8 oz. Ole Smoky White Lightnin' moonshine
8 yellow Peeps
Combine both ingredients into a Porthole infuser, and let marinade overnight
Moonshine Fizz
2 oz. Peeps Moonshine
1½ oz. triple sec
20 g. (4 tsp.) sugar
4 oz. egg whites
Pour all ingredients together in a KitchenAid mixer, and blend with whisk attachment on a medium setting until egg whites are a soft peak. Pour ingredients into a piping bag, and reserve in refrigerator.
Carrot/Clementine Foam
100 g. carrot juice
100 g. clementine juice
2 oz. peach liqueur
5 g. versawhip
0.5 g. xanthem gum
20 g. (4 tsp) sugar
Pour all ingredients together in a KitchenAid mixer, and blend with whisk attachment on a medium setting until the solution begins to foam and bubble without falling. Pour ingredients into a piping bag, and reserve in refrigerator.
To Pour
Pipe Moonshine Fizz into chilled martini glass. Top with Carrot/Clementine Foam. Garnish with petite cruciferous greens for color and shavings of Valrhona Dulcey blond chocolate.
Now that you've seen what you can do with your kid's (or, admit it, your) stash of Easter candy, I'd love to hear what recipes you tried. What was your favorite? Of course, while it's always fun to get creative with your beverages, in my opinion, a holiday just isn't a holiday without that special once-a-year meal. So head on over to WanderFood for some suggestions for traditional Easter fare. And remember, check back on Friday for some special drink recipes perfect for Easter brunch.
Yum! I can't wait for Sunday!
Veni, Vidi, Bibi!
—Rebecca
Photo credits:
Chocolate Bunny courtesy of Kwandwe Private Game Reserve
Peeps Peach Pool courtesy of BevMo!
Chocolate-Covered Malasada courtesy of Sheraton Kauai Resort
One Hoppy Paradise Plum courtesy of Couples Resorts
Moonshine-Clementine Fizz courtesy of Shikany