Easter. That magical day when children wake up to baskets full of brightly decorated eggs, chocolate bunnies, jellybeans, and of course, those sugary-sweet marshmallow favorites, Peeps. But why should kids be the only ones having fun on this holiday? After putting the little ones down for an afternoon post-sugar-crash nap, it's time to raid their baskets for some leftover treats that will put a little "spring" in your step.
To help you have a hoppin'-good time, I asked a number of restaurants, bars, and spirits companies to share some of their favorite Easter candy-inspired tipples that you can re-create at home. I received so many tasty, sweet recipes that I couldn't narrow it down to just a few, so instead of, well, for lack of a better term, putting all my eggs in one basket, I've created two recipe round-ups. Following is part 1; part 2 will appear on Wednesday.
Also check out WanderFood's Easter foods for more Easter ideas!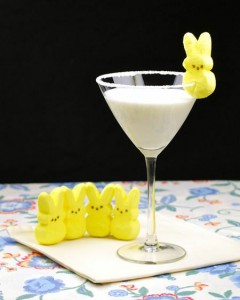 THE PEEP-TINI
Created by Niccole Trzaska of The Liberty, New York City
1½ oz. Sobieski Lemon Meringue vodka
½ oz. white chocolate liqueur
1 oz. cream
Sugar
Peeps for garnish
Dip rim of chilled martini glass into sugar to coat. Add Sobieski Lemon Meringue vodka, white chocolate liquor and cream in a cocktail shaker with ice. Shake and strain into sugar coated martini glass.  Garnish with a Peeps and serve.
[If you're going to serve these at a party, try using a variety of colored sugars and contrasting Peeps. — Rebecca]
ORANGE PEEPSICLE and CHOCOLATE BUNNY
Created by Stephen Tam Loo, head bartender at Sansei Seafood Restaurant & Sushi Bar, Waikiki, Hawai'i
1½ oz. Svedka Orange Cream Pop vodka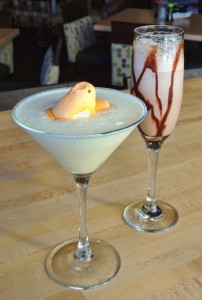 ½ oz. orange juice
¼ oz. simple syrup
½ oz. half & half
1 slice orange (no rind)
Orange Peeps
Muddle orange. Add all ingredients into mixing glass. Add ice and shake. Strain into martini glass. Garnish with orange Peeps and/or orange zest
½ oz. Bailey's Irish Cream
½ oz. Godiva White Chocolate Liqueur
½ oz. Godiva Dark Chocolate Liqueur
¼ oz. Light Creme de Cacao
½ oz. Frangelico
¼ oz. simple syrup
½ oz. half & half
Chocolate sauce
Chocolate candy egg
Add all ingredients into a mixing glass. Add ice and shake. Drizzle chocolate sauce along inside of champagne flute. Strain drink into glass. Garnish with small chocolate candy egg.
STRAWBERRY PEEPS CAKE
Created by Jordan Catapano, author of This Girl Walks Into a Bar and expert mixologist for BevMo!, a leading alcoholic beverage-lifestyle specialty retailer.
1½ oz. Pinnacle Cake vodka
¾ oz. strawberry liqueur
½ oz. hazelnut liqueur
1 oz. half & half
Pink Peeps
Fill martini shaker with ice. Add vodka, strawberry liqueur, hazelnut liqueur, and half & half. Shake for several seconds to mix. Strain into a martini glass. Garnish with pink Peeps, and serve.
JELLYBEAN STARBURST
Courtesy of Chima Brazilian Steakhouse, with

locations in Philadelphia; Tyson's Corner, VA; Charlotte, NC; and Fort Lauderdale, FL.
½ oz. vanilla vodka
½ oz. cherry vodka
½ oz. raspberry vodka
½ oz. orange vodka
¼ oz. pineapple juice
¼ oz. cranberry juice
¼ oz. orange juice
Splash sour mix
Splash grenadine
Squeeze lemon
Shake ingredients together, and serve in a hurricane glass. Garnish with an orange slice.
[For some extra Easter flair, add a cocktail pick with multiple fruit-flavored jellybeans. — Rebecca]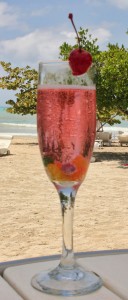 PEACHY SPRING BELLINI
Courtesy of Couples Resorts, Jamaica
1 oz. peach schnapps
3 oz. champagne
Jellybeans
Cherry
Place several jellybeans in a champagne flute. Top with peach schnapps and champagne. Garnish with a cherry.
Don't forget to check back on Wednesday for even more candy-inspired creations. And on Friday, I'll be bringing you a special collection of seasonal libations perfect for a more-refined Easter brunch.
Veni, Vidi, Bibi!
—Rebecca
Photo credits:
Peep-tini courtesy of The Liberty
Orange Peepsicle and Chocolate Bunny courtesy of Sansei Seafood Restaurant
Strawberry Peeps Cake courtesy of BevMo!
Jellybean Starburst courtesy of Chima Brazilian Steakhouse
Peachy Spring Bellini courtesy of Couples Resorts