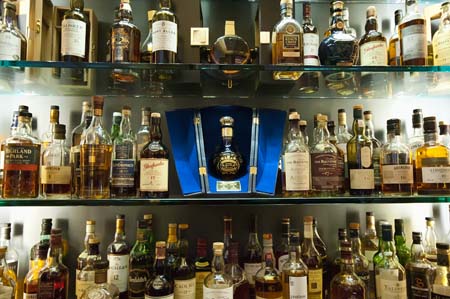 The Westin Kierland Resort & Spa in Scottsdale, Arizona, has always been proud of its Scottish heritage. From the Highlands-inspired dishes at the Brittlebush Bar & Grill to the "Bagpipes at Sunset" series in which a master bagpiper calls golfers in from the links every evening, the resort honors the contributions of Scottish immigrants to early Arizona.
Continuing with the celebration is the recent opening of its Scotch Library in late 2013. With more than 130 single malts and blends from each of the six Scottish whiskey regions, it is one of the largest—if not the largest—collections of Scotch in the entire Phoenix area. Vintages range from 10 to more than 30 years old, and there's something for every price range.
Got a few extra bucks to spare and want to make this a vacation to remember? The Scotch Library offers an extremely rare 62-year-old Macallan in a Lalique decanter. A one-ounce serving costs $1,000; two ounces will set you back $1,800.
Along with the bottles, the Library also features a quartet of "Scotch Ambassadors" who have been extensively trained to pass on their knowledge to guests either one-on-one or during the weekly "Evening of Scotches" tasting events, held every Friday. And once a month, the resort hosts Scotch Master Tastings taught by outside Scotch experts.
I recently had the chance to attend one of the Master Tastings, featuring three ages—15-, 18-, and 21-year-old—of the Speyside single malt Glenfiddich, as well the distillery's limited-release Cask of Dreams. The evening was hosted by Robert Camacho (seen above), a craft spirit specialist for Young's Market Company of Arizona.
Up first was the Cask of Dreams. Released in 2012, this 12-year-old spirit is named so because the folks at Glenfiddich decided to literally roll eight 53-gallon barrels through U.S. streets and allow people to write their dreams and aspirations on them. The barrels were returned to Scotland and used to age the whisky, with the hopes that the signers' dreams will come true. The result: 3,500 bottles of a balanced, oaky libation with notes of vanilla, anise, pepper, citrus and caramel.
But my favorite, after some serious sipping, was the 18-year-old. Dry and heavy on tannins, it featured a rich caramel and baked apple finish. To it, and to the Westin Kierland, I say, "Òlamaid deoch-slàinte!"
The Scotch Library is open from 5–7 p.m. nightly. "Evening of Scotches" tastings are at 6 p.m. and cost $45 per person; Master Tastings begin at 6:30 p.m. and cost $50 per person. Reservations are required for all tastings.
More about the Westin Kierland
Technically located in Phoenix, but bordering Scottsdale, the Westin Kierland is a AAA Four Diamond resort featuring a full-service spa, a championship golf course, 10 dining venues, and the Adventure Water Park complete with a waterslide, lazy river, and FlowRider board sport simulator. And if Scotch isn't your drink of choice—not everyone is like Ron Burgundy: "I like Scotch. Scotchy, scotch, scotch."—head on over to the Muddle Bar, where you can create your own exotic cocktails using the freshest fruits and herbs. Stay tuned for more about the Muddle Bar and its special Muddle Mania classes.
Photo of the Westin Kierland Resort courtesy of the resort.