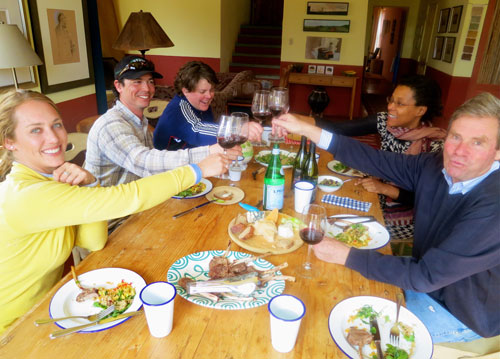 Breweries abound in Colorado, but wine? It's hard to believe in a state known for cattle-raising and corn crops that a vineyard on par with California wines is taking root, but I can attest, I saw it with my own two eyes. Having just returned from a whirlwind adventure tour of Southern Colorado, Sutcliffe Vineyards was one of my favorite discoveries.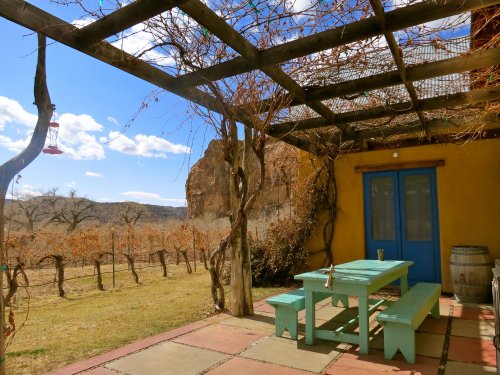 For owner John Sutcliffe, he's no stranger to doing things others would raise an eyebrow at. Welsh born and former officer in the British Army, John moved to New York City in '68 to try his hand in the restaurant world. After managing the wildly successful Maxwell's Plum (an iconic 60s NYC hotspot), he was general manager of Tavern on the Green. He went on to open many other restaurants before settling in Colorado.
Colorful in character as a Salvador Dali painting, John explains, "On a road trip through the area, I saw a sign that read 'Peaches, cherries and ranch for sale'. I ended up buying all three that afternoon."
Planting vines was more a landscaping whim rather than a business venture in the beginning. Due to a local farmer's encouragement, John began planting more and more varietals, until eventually, he had a 'full-bloom' vineyard.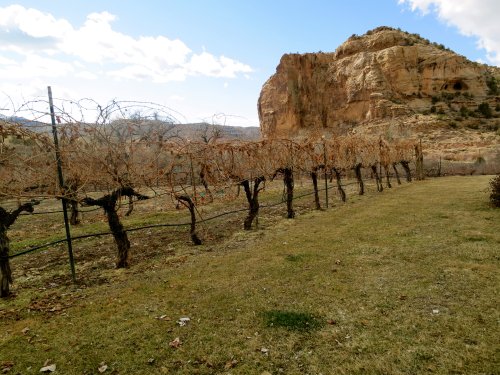 How did the first Sutcliffe wine, made by John himself, taste? "Absolutely GHASTLY," exclaimed John in his adorable English accent.
Soon, a white knight wielding award-winning wine-making skills from the west would ride in and save the day.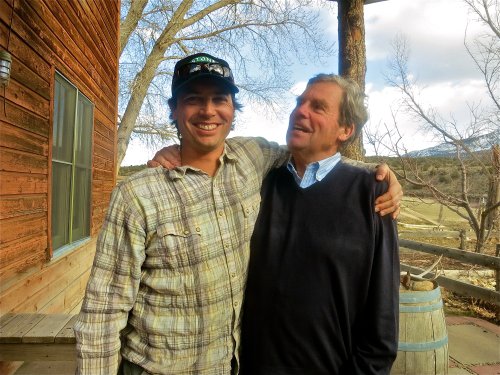 Joe Buckel and John Sutcliffe
Flanked on both sides with sienna-colored mesas in McElmo Canyon outside of Cortez, Colorado, a plethora of grape varietals are being harvested on the former ranch turned vineyard. From Syrah to Sauvignon Blanc, Joe Buckel, the white-knight winemaker previously of Sonoma's Flowers Vineyard, is tending the vines and making great wines.
"With Sutcliffe wines, I tend to lean more towards the Old World style of wine-making rather than the big and bold California approach," says Joe.
Although they haven't gone through the organic certification process, the wines are organic, with no pesticides, much like many of the European wines are.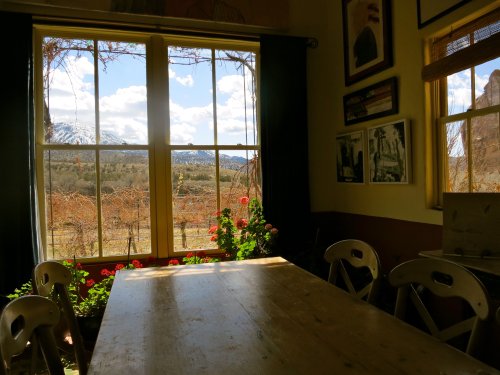 My friend and travel-partner-in-crime, Lindsay Taub, and I, as a part of the wintertime activities during our stay at Dunton Hot Springs**, opted for a horseback ride guided by Canyon Trails Ranch in the Canyons of the Ancients and lunch at the nearby Sutcliffe Vineyards tasting room.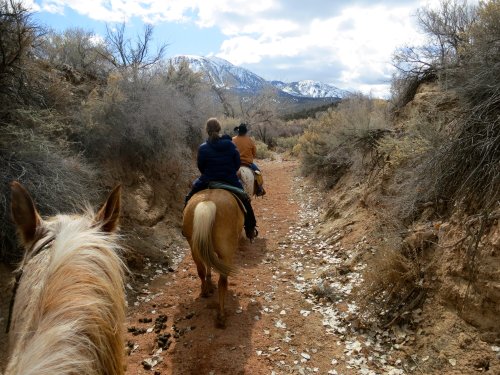 A three-course country French lunch ensued at the hands of Dunton Hot Spring's gifted executive chef, Carrie Eagle.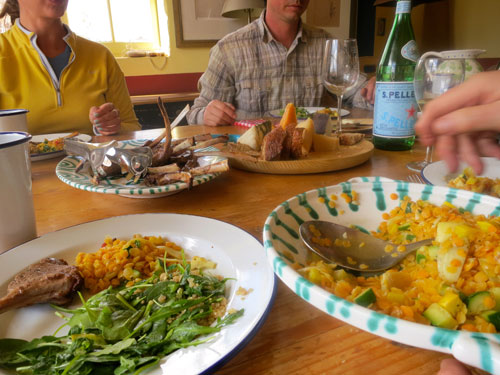 "With the vineyard lunches, I like to keep the dishes simple. I back off the seasonings and the sauces to really showcase John's wines," says Chef Carrie.
Gourmet cheeses, arugula and quinoa salad dressed in tangerine oil, lamb chops and fine Spanish chocolate were paired with three Sutcliffe wines: a french-style 2011 Chardonnay, 2009 Syrah, and a 2009 Field Red Wine Blend.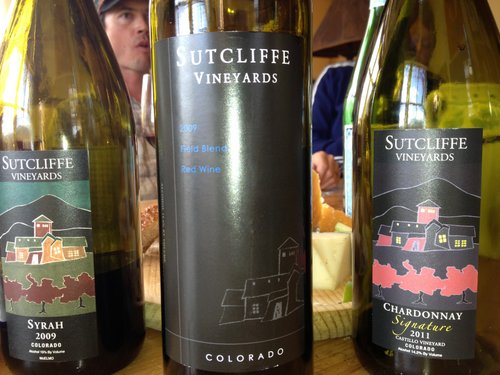 A horseback ride exploring ancient Anasazi ruins paired with a divine lunch at Sutcliffe Vineyard made for a lovely (and entertaining) afternoon in the Four Corners.
**Dunton Hot Springs is a 19th century mining town turned luxury all-inclusive resort in the San Juan Mountains of Southern Colorado. And it's an oh-la-la experience: homey but glamped-up cabins, natural hot springs, gourmet meals, outdoor adventures like snow-shoeing or hiking depending on the season, and most importantly, an opportunity to 'unplug' and enjoy the tranquil silence. Sutcliffe wines are served at both lunch and dinner at Dunton Hot Springs.
View from my cabin of Dunton Hot Springs
For my review of my time spent at Dunton Hot Springs with my guy last summer, head HERE.