When I spotted this at my local Whole Foods, I squealed! Wanderlust Cider? This should be the official drink of all wanderlusters! In honor of the Beth Whitman, the original female wanderluster, I lift a glass of Wandering Aegean Wanderlust Cider.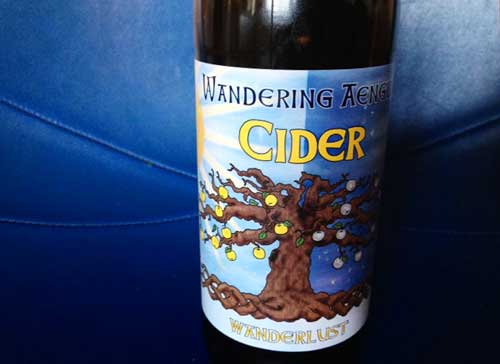 Not like you need any intro to Whitman, but I'd like to highlight some of her bad-ass travel adventures and contributions in spreading the gospel of travel in her 25+ years as a travel professional:
Backpacked through Nepal
Hiked the Himalayan foothills in Bhutan
Worked with orphans in Vietnam
Did a solo motorcycle trip from Seattle to Panama (7,000 miles in 9 weeks!).
Started Dispatch Travels publishing company, which published Wanderlust & Lipstick: Traveling with Kids guide book
Author of 2 Wanderlust & Lipstick guide books: The Essential Guide for Women Traveling Solo and For Women Traveling to India
Co-founder of the travel bloggers' community fundraiser: Passports with Purpose
Passports with a Purpose raised $110k for building wells in Haiti last year.
Founder and editor of Wanderlust and Lipstick, hub of 20 travel blogs (19 written by women).
Founder and group leader of WanderTours – women-only and coed tours to India, Bhutan, Cambodia and beyond.
Wanderlust Cider
If you want to join me in toasting to Beth Whitman with Wanderlust Cider, it's made in Salem, Oregon. If you don't live near the Wandering Aengus Ciderworks brewery and tasting room, here HERE to find out where to buy it.
Wandering Aengus Wanderlust Cider is made from Hood River & Culver orchard apples. It's semi-dry and according to their website, pairs well with BBQ, Pork, or Cheddar. Since Whitman is a big fan of Indian food, I bet it would pair brilliantly with a vegetable curry and sag paneer too.
At Wandering Aengus Ciderworks, they press and blend over 20 cider apple varietals. Their heirloom apples varietals originate from France, England, and pre-prohibition America, but are grown now in Oregon. And, for all those who are wheat intolerant and beer is a no-no, Wandering Aengus' ciders are gluten free.
Wonder if they would make an official Wanderlust & Lipstick cider varietal? Stay tuned!
Thank you Beth for all your tireless work in encouraging hundreds of thousands to go out and explore the world and thank you for this opportunity to blog for nearly 2 years now at Wanderlust & Lipstick.
Three cheers to Beth Whitman!
Photo of Beth Whitman sourced from GoNomad.com