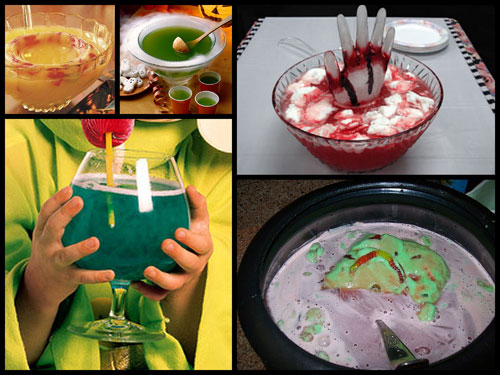 Even though you or your child will probably consume more sugar in one night than in an entire year, kids' Halloween punches are the 'nail in the coffin' for a spook-tacular kid-friendly bash. Here are a few easy, non-alcoholic punch recipes for Halloween:
Candy Corn Punch by Celebrations.com
Ingredients:
1 Cup vanilla ice cream
2 cups orange-colored sorbet or sherbet
1 Cup yellow-colored sorbet or sherbet
Optional: orange and yellow food coloring
1 gallon tropical blend juice (plus extra for refills)
1 Liter ginger ale (plus extra for refills)
Directions:
Soften ice cream so it is easy to spread, but not melting. Optional: stir orange or yellow food coloring into the sorbet or sherbet for a more intense color that resembles candy corn.
Add vanilla ice cream into the lined ring mold and smooth top surface making it level. Add orange sorbet on vanilla and smooth top surface making it level. Add yellow sorbet on orange sorbet and smooth top surface making it level. If ice cream in ring mold becomes to soft to support the next layer, put the mold in the freezer for 15 minutes until firm. Freeze mold until party time.
Pour juice and ginger ale into punch bowl. Invert mold on to a large plate and gently slice and remove ice cream. Slide ice cream from the plate into the punch for a candy corn ice cream float.
For Refills: Add 4 cups of juice to 1 cup of ginger ale into the punch bowl as needed.
Makes about 32 (6 oz.) servings
Adult Version: Infuse plain vodka with candy corns for a few hours, add ice, shake and pour into a martini glass and you've got a Candy Corn Martini that actually tastes like candy corn. Garnish with a pumpkin shaped candy corn.
Green Goblin Punch
1/2 gallon limeade
1 liter ginger ale
1/2 gallon lime sherbet
1 bag mini marshmallows
1 jar maraschino cherries
Gummy worms
Mix juice and ginger ale together in a large punchbowl. Scoop balls of sherbet and add to punch. Add marshmallows, maraschino cherries and gummy worms to float in punch. Serve extra marshmallows, cherries and gummy worms as garnishes.
Adult Version: Green Goblin cocktail recipe
Gooey Slime
1 gallon water
6 oz. package blue Kool-Aid (or equivalent)
12 oz. can orange juice concentrate (with pulp)
Gummy worms
2 oranges, sliced
In a large punchbowl, combine the water, Kool-Aid and orange juice concentrate. Mix well. Garnish with gummy worms and fresh orange slices.
Bloody Hand Punch
1 envelope unsweetened red fruit punch soft drink mix
1 envelope unsweetened orange soft drink mix
2 cups white sugar
3 quarts cold water
1 liter ginger ale
2 rubber gloves
In a large punchbowl, combine fruit punch mix, orange mix, sugar and cold water. Stir until all of the powder and sugar is dissolved. Fill each rubber glove with water (and gummy worms for effect) and tie in a knot at the end. Place them in the freezer to harden. When ready to serve, remove the gloves from the frozen ice by running under warm water briefly and cutting away the gloves. Add the ginger ale to the punch mixture and floating frozen hands.
Beetle Juice
2, 12 oz. packages frozen strawberries, thawed
1, 6 oz. can lemonade concentrate, thawed
1 quart ginger ale
1 cup raisins
1 cup blueberries, fresh or frozen
1 cup of gummy worms
In a large bowl, mash the strawberries with a fork. Mix the strawberries, lemonade and ginger ale in a large pitcher or punchbowl. Place the raisins, gummy worms and blueberries (the bugs) into the punch mixture. The "bugs" will float to the top and make for a creepy-crawly presentation kids will love.
For more frightful fun Halloween drinks for kids, check out Cute Food for Kids 28 Halloween Drinks for Kids recipe post.
Photo and last three recipes provided by GrinandBakeit.com