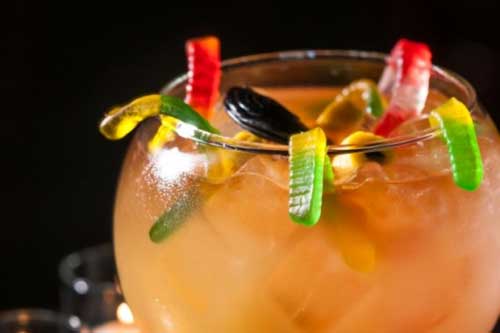 I love Halloween. I go all out with my costume and haunt parties that take their creepy cocktail-making just as serious. There are so many fun things in making spooktacular Halloween drinks (both for kids and adults). For example, did you know there is vampire blood vodka and even black vodka? And food coloring goes a long way when you want to make a non-alcoholic punch look scary. To avoid poisoning those cute little superheros and princesses with artificial chemicals, check out Chocolate Craft's natural food dyes.
Also, if you don't want to work up a new cocktail or drink recipe, you can always add ghoulish garnish like gummy worms, lychee or grape eyeballs, black sugar rimmed glasses or Halloween-themed ice cubes to your drink of choice.
Touch of Evil Martini, photo courtesy of Barina Craft

Touch of Evil Martini
3.5 oz Blavod Black Vodka
.5 oz Chambord (or any berry-centric liqueur)
Squeeze of Lime
Pour ingredients into shaker and fling the devil right out of it, pour into chilled martini glass. Rim glass with orange sugar or a lychee eyeball for fun. Or make a regular vodka martini and throw a few onion eyeballs in (as pictured above).
The Green Goblin

1 oz. Molinari Sambuca Extra
1/2 oz. coconut syrup
1/2 oz. pineapple juice
Blue curacao according to taste
Gently pour into the shot glass the ingredients – following the order above – in order to obtain three different and well defined layers.
Van Goghst Punch (serves 12)
Created by The Cocktail Guru, Jonathan Pogash
1 bottle Van Gogh Rich Dark Chocolate Vodka
12 oz. orange juice
12 oz. pomegranate juice
12 oz. club soda or lemon-lime soda
Pour ingredients into large punch bowl or pitcher filled with ice and stir to chill and dilute.  Ladle or pour out into small punch glasses.
Garnish: Several sliced orange wheels
Snake Eyes Cocktail
Created by Caña Rum bar team and bartender Milan De La Rocha
1.5 Banks Rum
Juice from 1 lime
3/4 Eucalyptus syrup
1/4 Pasilla/Poblano pepper juice
Yellow Chartreuse
2 drops Pernod Absinthe as garnish
Mix ingredients in shaker, pour over ice in a rocks glass.
Eucalyptus Syrup:
Equal parts water to raw sugar brought to a boil with 8-10 hand crushed fresh eucalyptus leaves to taste. Start on the sweeter side.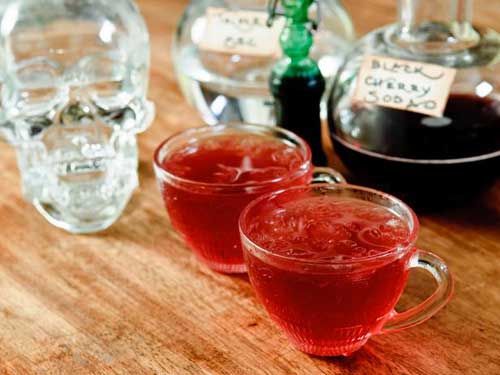 Zombie Gut Punch, Photo courtesy of Cooking Channel
Zombie Gut Punch
10 ounces vodka
5 ounces triple sec
2 ounces bitters
1 cup fresh squeezed blood orange juice
2 cups black cherry soda
Grenadine, for rim
In a large punch bowl filled with ice, pour vodka, triple sec, bitters, blood orange juice and black cherry soda. Laugh as though you are an evil zombie and stir. Rim each glass with grenadine before filling with punch mixture, and serve. The cocktail makers recommend to stagger around menacingly, punch in hand, threatening to eat strangers' brains.
For more Halloween cocktail recipes, check out Societe Perrier's 5 Creepy Halloween Cocktails. Stay tuned for next week's non-alcoholic spooky sips.
Top photo courtesy of Societe Perrier.
Got more ideas or favorite fiendish drink recipes? Would love to hear them, please add them in the comment box below.