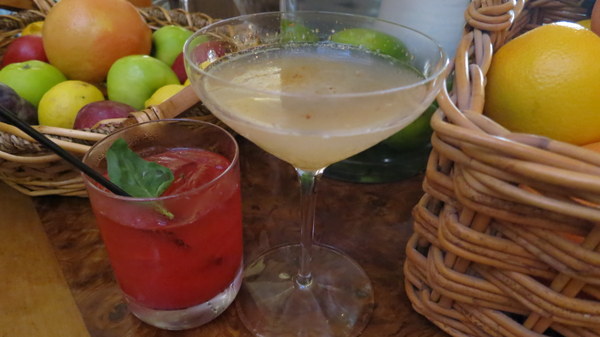 It's an election year and unless you've been living in a remote ice cave in Antarctica, it's all you hear about. I write about cocktails all day long and figured why not frame cocktails in a political context. At the swanky Hotel Casa Del Mar's launch party of their Market Fresh Mixology menu, I breached the never-talk-about-sex-politics-religion taboo and asked the general manager of Hotel Casa Del Mar and Aidan Demarest, one of L.A.'s cocktail kings who created the Market Fresh Cocktail Menu and owner of Neat Bar, to pair his libations with political figures.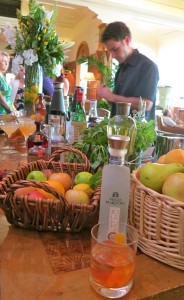 While the two hotel bartenders, mentored by Demarest, squeezed, shook and strained the nine different Market Fresh cocktails for guests, I found my first willing partisan participants: James Barela, General Manager of Hotel Casa Del Mar.
Mitt Romney (ok, he doesn't drink as a practicing Mormon, but play along) –
La Pistola (Milagro Reposado, lemon juice, fresh plum, cinnamon) "I'd recommend La Pistola because Romney needs some dead aim right now and it's what he did in business. Point and shoot," says Barela.
Karl Rove –
Siberian Summer (Stoli Elit Vodka, Solerno, blackberries, lemon basil) – "Siberian Summer is for Karl Rove because he says a lot without saying anything. Just like a Siberian Summer, it's just not there."
Demarest's Political Punch
Cornering Demarest was more challenging as he worked his charm around the room, passing drinks out, making sure everyone had at least one if not two of his Market Fresh cocktails in their clutch.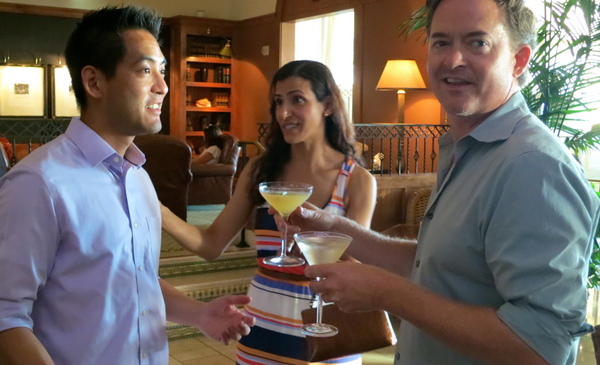 His eyes widened as I tell him the political premise and he makes a disclaimer before we begin, "I designed these cocktails for people I like, so this is going to be a challenge with certain politicians." Nevertheless, he handled the game with finesse, like a pro political pundit would have.
President Obama –
Sage Advice (Stoli Elit Vodka, sage liquor, apple/lemon juice, maple syrup, sage sprig) – "Everybody could use some good advice, but especially President Obama right now. I hope to God he's got some good advisors," says Demarest.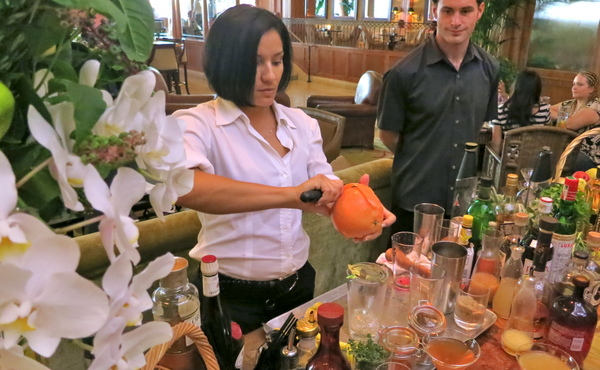 Mitt Romney –
Siberian Summer – "I recommend both the cocktail and the destination for Mr. Romney."
Mayor of Los Angeles, Antonio Villaraigosa –
La Pistola – "First, I hope he's packing one. Secondly, the Mayor is a walking pistol, he's tough and just does what he wants and believes in, no matter what public opinion of him is."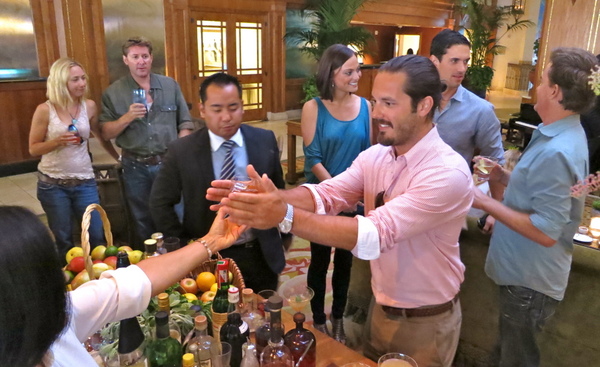 Senator Todd Akin of Missouri –
Añejo Old Fashioned (Herradura Añejo tequila, angostura bitters, orange bitters, Luxardo cherry) – "Some people just don't deserve a cocktail. But if I had to give him one, I'd make the Añejo Old Fashioned because his views on women's right to choose are old squared."
Beyond twists on classic cocktails, other Demarest creations on the Casa Del Mar Market Fresh menu include the The Perfect Pear (Hendricks Gin, pear, thyme) and Plaid Mazerati (Nonino Amaro, Glenfiddich, Benedictine, grapefruit).
Next time you're near the beach in Los Angeles, stop in to try one of these delicious, farmers-market driven cocktails avail Tues-Fri from 6 – 11 pm. The historic 1920s Casa Del Mar has one of the best spots in all of Santa Monica to watch the sun set in the background with the pier's ferris wheel twinkling in the foreground (even my horrible phone camera catches its beauty, see photo to right). Room rates start at $450 a night.

Hotel Casa Del Mar, 1910 Ocean Way Santa Monica, 90405