If you've even been out with me, you have come to expect two things:
1. Manhattans are my favorite cocktail.
2. If it's not made right, I will send it back, time and time again whether I'm at a posh Beverly Hills private club or on safari in the Serengeti.
But, I'm more than happy to teach a bartender, butler or Maasai warrior if they want to know how to make a proper Manhattan. And that's exactly what happened at AndBeyond Serengeti Under Canvas in Tanzania. Every night, in an elegantly pimped out tent, cocktails and wine were served before dinner. It was a great opportunity to meet other safari sojourners and swap animal sighting highlights of the day.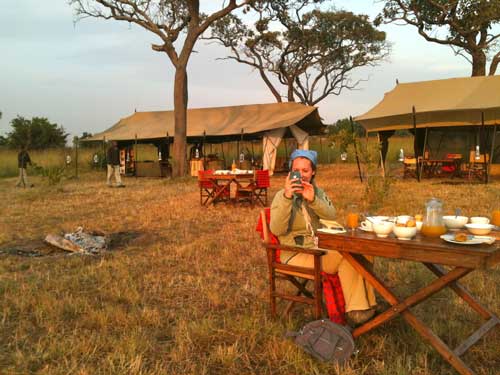 The cocktail 'bar' is the left tent in background.
When I ordered a Manhattan from Mauran, our personal butler (I know, how fancy am I?!), I heard a guest say, "Wow! Aren't you asking a lot to have a Manhattan in the middle of the bush?"
I said to gentleman, "We shall see. I had a great Manhattan on safari in the Ngorongoro Crater, so why not here?"
The drink arrived. I took a sip. And set the drink down and promptly order a glass of wine.
The ever observant and attentive Moraun notices I haven't touched the drink and asks in his exotic Tanzanian accent, "Is no good?"
I couldn't lie, not here anyhow. Sitting fireside under the stars, hearing the occasional lion growl in the distance and feeling peacefully connected to nature, the honest truth flew out of me.
"No, it's not good at all. Too much sweet vermouth," I blurted out.
He looked disappointing. But quickly asked if I could show him how to make a Manhattan the 'good' way.
I said yes, but first, he had to teach me how to wear the stunning red and blue Maasai cloth the men wear. He agreed, flashing his million dollar smile. It was deal.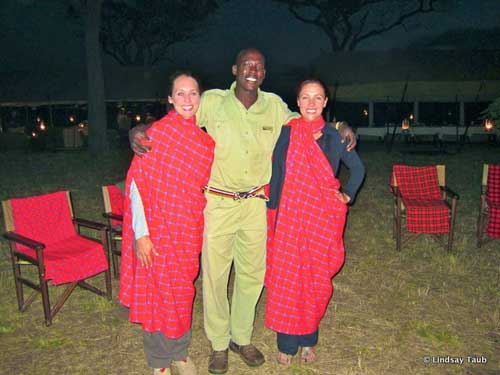 Lindsay Taub and I modeling our Maasai fashions by Mauran at AndBeyond, Serengeti Under Canvas
And the following night, we had a cocktail-making lesson under the tent the Travel Channel would have drooled to have caught on film: Mauran the Maasai Warrior making a Manhattan in the middle of nowhere.
He was an excellent student and made a wonderfully balanced Manhattan. Now if they could get some bourbon soaked cherries in the Serengeti, that would be heaven on earth.
Do you have a story of exchanging knowledge or skills with someone during your travels? If so, I would LOVE to hear it. Please leave it in the comment section below.
Photos by Lindsay Taub and Lanee Lee.