Just got back from an incredible, life-altering trip to East Africa. For five days I went on safari with AndBeyond in two locations in Tanzania and one in Kenya. In addition to the Dawa Cocktail mentioned in last week's post, there are several African beers that make the hot, dusty ride manageable and a liqueur that makes any morning sing on safari.
Safari Lager – Of course, this is a natural choice for a cool beverage when on safari! It's a pale lager made by Tanzanian Breweries.
Kilimanjaro Lager –  Its marketing slogan is top notch funny: "If you Can't Climb it, Drink it". East Africans have a witty sense of humor and it's revealed even in the suds.
Serengeti – Great beer to sip on while waiting for one of those rather dim wildebeests to take the plunge and start the great migration over the Mara River.
Tusker Lager – Kenya's favorite beer and a source of national pride. Tusker beer was first marketed in 1923, shortly after the founder of Kenya Breweries, George Hurst, was killed by an elephant during a hunting accident.  The slogan Bia Yangu, Nchi Yangu means "My Beer, My Country" in Swahili.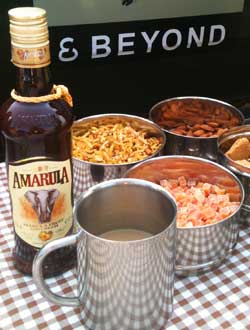 Amarula – Like the Bailey's of Africa, Amarula makes a lovely addition to morning or evening coffee. It hails from South Africa but is known as the "Spirit of Africa". My friend (pictured above with Tusker beer) and I were greeted with Amarula, coffee and snacks after we landed in the Serengeti to stay at Under Canvas AndBeyond. FYI, out of the dozens of safari companies picking up guests that day on the red dirt runway, AndBeyond was the only outfit with a welcome table complete with an adorable brown gingham tablecloth and refreshments – loved this!.
Photos are by the author.