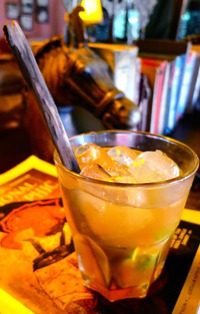 Ask any Kenyan what the national drink is and they'll proudly say, "Dawa!" Dawa means medicine or magic potion in Swahili. Just like whisky was used by early American settlers as a remedy for everything from toothaches to snake bites, the Dawa cocktail is also considered the cure-all of Kenya.
I discovered this tasty sip first at the African-chic Tribe Hotel in Nairobi, Kenya and then numerous times while on safari with AndBeyond.
No surprise the cocktail's origin was imported from Brazil, as it is similar to a caipirinha in taste and ingredients.  Like a caipirinha, it's quite simple to make. All you need is vodka, limes, honey, ice and a wooden stick.  The wooden stick is a cool decorative touch that actually serves a purpose.
The stick is dipped in honey before adding it to the drink, so you can use to mix or muddle the ingredients together, sweetening it as much as you care to swirl.
If you don't have a wooden stick on hand, you can get creative and use the end of a wooden spoon or make your own by cutting a dowel into 5 inch sections. Fresh limes and raw honey are the two essential ingredients to a delicious Dawa.
Here is Joel, our butler at AndBeyond Bateleur Camp near Masai Mara, to show you how to make a Dawa. (Notice, he skips dipping the stick in honey. It still tasted mighty fine.)
[youtube=http://www.youtube.com/watch?v=LFec1xwWgLY?version=3]
Dawa Cocktail Recipe
Serves 1
2 ounces vodka
3/4- 1 cup crushed ice
1/2 lime cut lengthwise into quarters and sliced 1/4 inch thick
1 tablespoon honey
Pour the vodka in the rocks glass. Fill it about 1/2 full of crushed ice. Add the lime. Dip the stick in the honey jar or add 1 tablespoon with a spoon to the glass. The honey will fall to the bottom of glass and congeal a bit. Stir to blend. While sipping, crush the lime with the stick and stir to make sure the honey is evenly incorporated. I like mine with a splash of soda water as I found it a bit too sweet for my taste.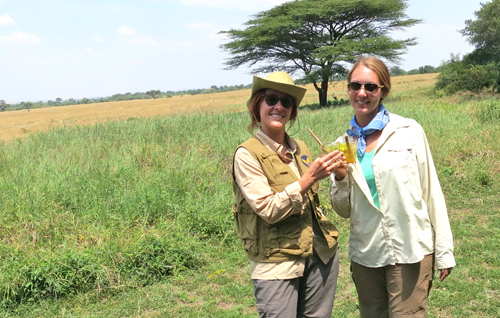 A Dawa cocktail after a long, dusty ride on safari is ideal to end the day (as pictured above, my friend and I enjoying post-safari Dawa cocktails at AndBeyond's vintage safari camp at Masai Mara, Kenya)…
As they say in Swahili to toast: Maisha marefu! (good health)
Resources:
Uber Lux Safaris throughout Africa & India: AndBeyond
Privately-owned, trendy hotel located near American Embassy, perfect for a stay in Nairobi before heading out on safari: Tribe Hotel.
Photos by the author.