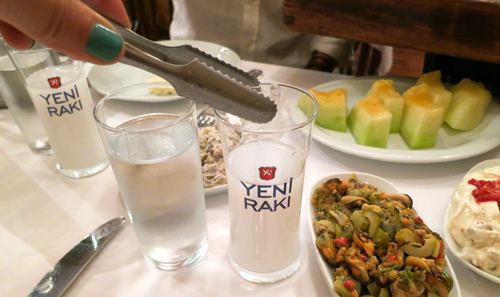 The Greeks have their Ouzo, the French their Pastis and the Turks their Raki. Raki, a grape brandy sweetened with anise, is as commonplace as water in Turkey, a warmly welcomed guest on the table of millions of Turkish people on any night of the week.
Erk Erkaya of Locally Istanbul explains why and how the Turks drink Raki, "Drinking Raki by yourself is meaningless. Raki is no good unless it's accompanied with great food and great company." And that's exactly how my friend and I experienced Raki on our first night in Istanbul: round a table at Sofyali with wonderful small plates of Turkish food and excellent new friends.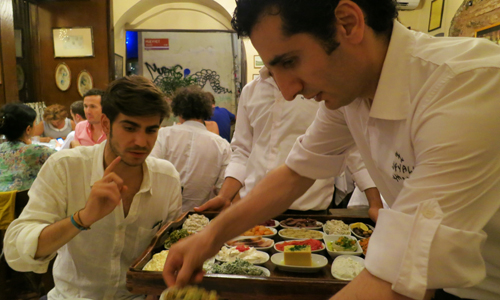 Raki also signifies the beginning of a night out in Turkey. It's what they start the night with at around 8:30 with small plates of typical Turkish mezzes like (goat) cheese, smoked eggplants, mussels, grilled meatballs, tahini and salads. Raki is served chilled in tall glasses and most Turks drink it by adding water and ice, transforming it from a clear to a cloudy white liquid.
Yeni Raki, is by far, the most popular brand of Raki in Turkey. Walk down any street in Istanbul and bottles of Yeni Raki decorate the tables as friends and family join in a meal.
Raki is also an obligatory beverage when the Turks either are celebrating or depressed. Pretty much anytime is a good time for Raki in Turkey.
It's definitely a must-try when in Turkey and when you do make sure you know the salutation… Şerefe (pronounced cher-eef)!
By the way, if you're looking for a who's-in-the-know guide of Istanbul's local, off-the-beaten path scoop, from where Madonna shops to best mojitos, Locally Istanbul is terrific when in Turkey.
Photos by the author.