I can't think of a better way to spend a Saturday night than strolling through the historic streets of Bellingham with a couple of Good Time Girls touring the town's whorehouses.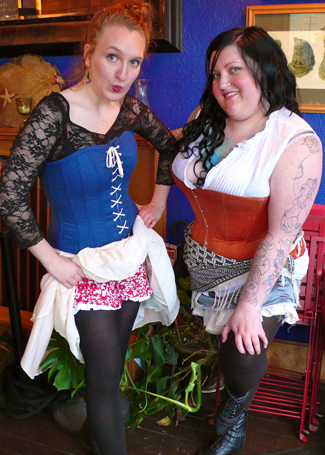 Modern day Bellingham, Washington is clean, green and family-friendly, but it wasn't always that way. As a lumber and mining town in its founding history, it was teeming with unattached, hardworking men with both money and urges burning holes in their pants.
In order to make these men happy (aka productive) and keep society ladies safe, prostitution was not only allowed but heavily regulated. Every 'working girl' had to be registered with a license, pay fees and undergo regular health exams to prevent spreading sexual diseases.
Thus enters the Sin & Gin Tour: Bellingham's Brothels & Boozers. For two hours, ladies of the night, dressed in period floozy fashions, escort you through the town's checkered past, pointing out secret former brothels and expounding on Belllingham's underbelly, from tattoos to booze.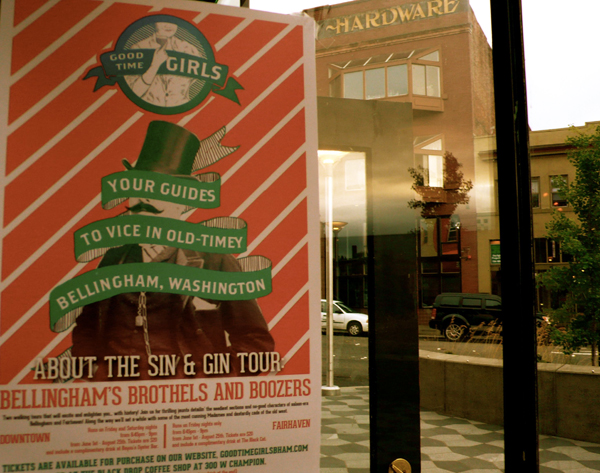 "After reading Brothels Of Bellingham
by Curtis F. Smith, I realized Bellingham had a lot of unsung heroes. And these working ladies are just one example. This town was literally built, in part, on their backs," explains Sara Holodnick, co-founder of Good Time Girls walking tours.
Standing in front of a tattoo parlor and fully tatted herself, she says that a tattoo, a drink and a venereal disease could all be had in one block circa 1800s – early 1900s in Bellingham. The tour also reveals Bellingham's red light district, like Amsterdam of today, which was in operation, fully lit up with bright, red lights and windows draped in red curtains by law until 1948.
This image is of a beautiful but 'whitewashed' mural by artist Lanny Little of Bellingham's red light district, minus all those pesky red lights, sinners and harlots: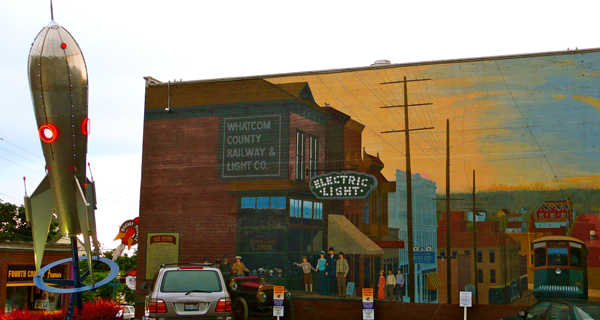 And where there were courtesans, there were also copious amounts of drinking. Most saloons or taverns carried the basics, like gin, whisky, brandy and beer with very basic cocktails.
On the Sin & Gin Tour, you'll learn the astounding fact that in the year 1830, the annual per capita consumption of alcohol among Americans stood at its all-time high of 3.9 gallons. That is to say that, on average, every man, woman, and child in the United States drank almost four gallons of straight alcohol every year!
And Bellingham boozing was no different. The Sin & Gin Tour ends with a stiff drink to celebrate Bellingham's lush-y, lusty past at the Bayou Oyster Bar in the town's historic downtown.
Choose from two Sin & Gin custom designed cocktails like the Shrinking Violet of gin, creme de violet and lemon juice or Roscoe the Dandy of bourbon, BnB and bitters or the Scoff Law of rye whiskey, lemon juice and grenadine.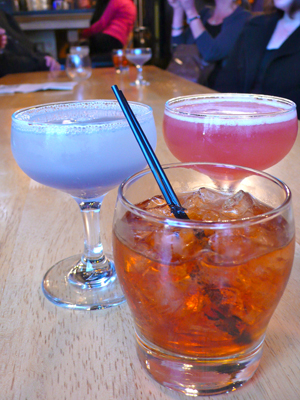 For $20, it's a steal of a down and dirty good time in Bellingham.
Other Good Time Girls historic walking tours include:
FAIRHAVEN Sin & Gin: Friday Nights ONLY
You'll visit the adorable Bellingham neighborhood of Fairhaven, which wasn't always so quaint. Explore the Devil's Row and learn of the Red Book, a guide to Fairhaven's bawdy houses for the discerning traveler.
FAIRHAVEN Historical Walking Tour – Unlike the other two tours for adults ages 21+, this walking tour is fun for the whole fam.  According to their website, you'll learn about early settlement, the gold rush that brought thousands of prospectors to the bay, a colorful entrepreneurial mayor and the plucky woman who helped change everything.
This tour was provided by Bellingham Whatcom Tourism, opinions expressed are my own.
Photos are the authors.