In Puerto Rico, the battle of the original Pina Colada rages on.  Folklore or fact, it's a frothy feud indeed.
With rum being Puerto Rico's national drink (over 24 different varieties of the liquid love avail), it makes sense one of the most famous rum-based cocktails originated here. Legend has it both the Caribe Hilton and Restaurant Barrachina lay claim to the original Pina Colada. Here are the two stories filled with intrigue, including pirates, celebrities and culinary genius:

The Legend of the Pina Colada
Caribe Hilton's was invented at the Beachcombers Bar by bartender Ramon "Monchito" Marrero.  Working at the Caribe in 1954, he was given the task of creating a signature drink for the hotel's affluent clientele (it was at the time the finest resort on the Island.)  After 3 months of tireless tippling before he got it just right, the drink debuted on August 15, 1954.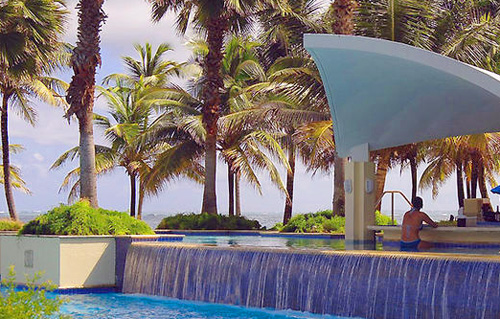 The story goes that the drink became something of a legend when Joan Crawford tasted it and said that it was "better than slapping Betty Davis in the face." His recipe wasn't trademarked (nor did he want it to be), so the recipe spread throughout bars internationally. Here is Monchito's not-so-secret recipe still utilized at the Caribe to this day:
Caribe Hilton Pina Colada
* 2 ounces light rum
* 1 ounce coconut cream
* 1 ounce heavy cream
* 6 ounces fresh pineapple
* 1/2 cup crushed ice
* Pineapple wedge and maraschino cherry for garnish
Pour rum, coconut cream, cream, and pineapple juice in blender. Add ice. Blend for 15 seconds. Pour into a 12-ounce glass. Add garnishes
A plaque outside of the Restaurant Barrachina firmly declares its Pina Colada claim with, "The house where in 1963 the Pina Colada was created by Don-Ramon Portas Mingot".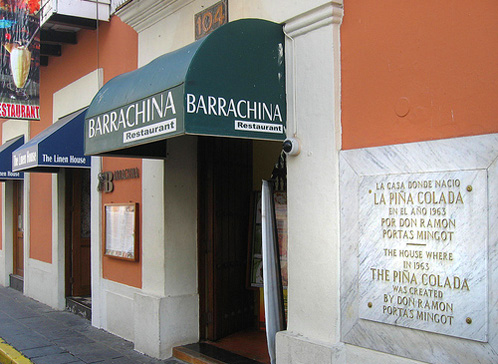 In the early 1960s, Mr. Mingot, a well-known Spanish bartender who authored cocktail recipe books, met the famed chef Mr. Barrachina while traveling in South America.  The two became fast culinary comrades and Mingot began bartending at Barrachina's restaurant in San Juan.  Already an accomplished mixologist, Mingot was used to experimenting with different ingredients to produce creative concoctions. One day, he mixed pineapple, coconut cream, condensed milk and rum in a blender with ice, and the Pina Colada was born.  The restaurant is still open and serving up these Pina Coladas in downtown San Juan, one block from the Governor's Mansion.
Mingot's Pina Colada, Restaurant Barrachina
* 48 oz Pineapple Juice
* 15 oz Coconut Cream
* 10 oz water (or ice – not both!)
* Mix in blender if using ice, or stir if using water.
* Add desired amount of rum
Garnish with a cherry and pineapple chuck.
Regardless of who invented it, including rumors a pirate of the 1800's who died at sea was the original creator, the Pina Colada's timeless popularity is here to stay with over 100 million served worldwide!
Obviously, a trip to Puerto Rico is what's required to decide for yourself who wins the Pina Colada prize – Caribe Hilton or Restaurant Barrachina?
Stay tuned for more Puerto Rico rum adventures.
For more on what to do in Puerto Rico: www.seepuertorico.com
Photo (drink) by andreakw, Creative Commons, (beachside bar) by Caribe Hilton (restaurant) by Restaurant Barrachina.