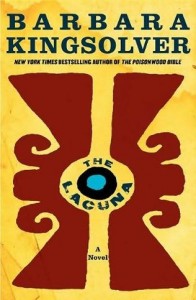 Confession: I love Barbara Kingsolver. Her fully developed characters haunt me and their poetically complex journeys move me. She thoroughly explores her themes. Every detail she writes has significance. So the title of this book,
The Lacuna
, seemed misplaced. Barbara would never leave a lacuna in her stories.
Lacuna:
1: a blank space or a missing part : gap also : deficiency
2: a small cavity, pit, or discontinuity in an anatomical structure
The Lacuna
follows the life of Harrison Shepherd, a boy who was brought to an isolated Mexican town  by his Mexican mother after she left his American father for a lover. Harrison's journals, letters, and news clippings become the text, organized by his faithful secretary. We get to know her pretty well in the course of the story as well.
As a young man the protagonist works for Diego Rivera, as a plaster mixer, then for Frida Kahlo as a cook. In time, he becomes a cook and sometime-secretary for Leo Trotsky before returning to the USA and becoming a novelist as the tide of McCarthyism rises to wash through all the hidden holes and hollows of our national creative mind.
The gaps and discontinuities of the the novel's world become more significant than the important events framing them. As Barbara writes, "The most important part of the story is the thing you don't know."  Which is why I might have liked the ending to hold one more thing that I didn't know. One event, toward the end of the book, would have been more engaging to me if the lacuna were left just a little wider. That last letter, received at the end of the book, might have been more satisfying if it left one more missing part. The speculation of his countrymen damned our protagonist. The speculation of the reader can save him.