If you like supporting a good cause while outfitting your camera, you need to check out Abie Straps.
All of the profits from the business go to charity. That's right. ALL. Owner and designer, Ellen LeRoy, has partnered with Helen Keller International and Mercy Ships to help restore sight to those who are struggling in third world countries.
Not only are the fabrics used luxurious, you are bound to find a strap to suit your style. I usually go with black but decided to try something different and chose this woven chenille-metallic tweed.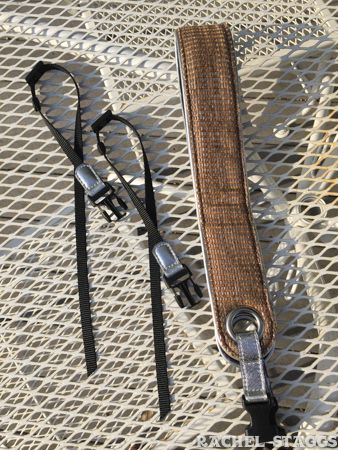 It's very comfortable with slight padding around the neck covered in the softest micro-suede. It was simple to attach my camera and features quick release clips. There's even a little SD card pocket sewn on the underside! Made in the United States!
I've taken mine from Portland, Maine (photo at top) and Québec City, to Isla Mujeres, Mexico and Santa Fe, New Mexico. It traveled with me all summer and still looks brand new!
The website is a breeze to use, they ship worldwide, and there's a generous return policy if you're not pleased. They even take custom orders! It's a great gift for the creative in your life and your support will help those less fortunate. Win-win.
What I Love:
All proceeds donated to help cure treatable blindness.
High quality materials used.
Made in the USA.
So soft around the neck! No need to break it in.
Many styles to choose from, or collaborate on a custom design!
May your journey be your muse,
Rachel
Abie Straps supplied me with a camera strap for the purpose of this review but all opinions are my own.