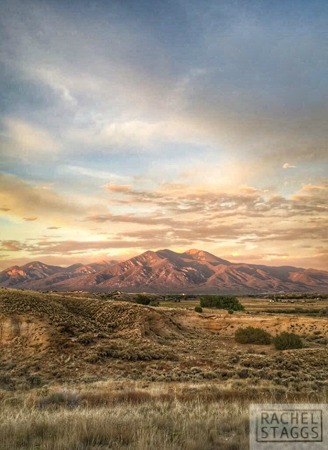 My return to Taos created a connection that I will continue to explore for years to come.
I first visited three years ago and was struck by this mountain range. I stayed outside, wrapped in blankets in near freezing temperatures both nights I was there until I couldn't keep my eyes open. I wanted to imprint this view in my mind.
I felt the same way this visit and was lucky enough to stay three nights just last week.
I was on a trip with my Mother, our second mother-daughter trip, both of which have taken us to New Mexico. Catch up on our first trip here!
It was especially magical to share the super blood moon eclipse from this very spot with my Mom.
We've already made plans to return in 2016, seeing no reason to wait another three years!
There are a handful of places I've visited that give me a deep sense of peace. Tears well up in my eyes when it's time to leave. Taos is one of those places.
May your journey be your muse,
Rachel
Travel with me in real-time! Follow along on Instagram, Twitter, and Snapchat (search for artistwandering)!
Related links: New Mexico: Rio Grande Gorge Bridge