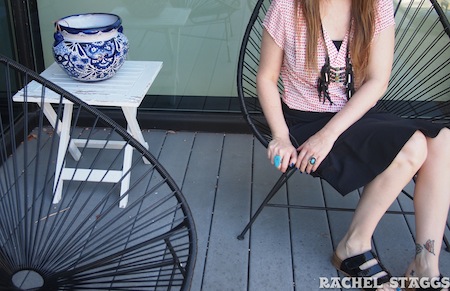 The Royal Robbins Discovery Skirt is a lightweight, wrinkle resistant, quick drying garment with UPF 50+. The shape is similar to a pencil skirt, with a bit of flounce at the bottom.
I was able to spend the day hands free by utilizing the two cargo pockets and one side pocket. My sunglasses case was a bit bulky, but it still fit in the side zipper pocket. I also carried around my ID, credit cards, and cash.
This skirt would be great to wear on a travel day, to have all of your essentials within easy reach.
I've worn it here with a blouse from H&M, necklace from Heyoka Leather, large turquoise ring made by Nick Garcia of the Santo Domingo Tribe, small turquoise ring that belonged to my Aunt Lydia, and Haflinger sandals.
What I Love
It dries quickly.
The nylon/spandex blend is soft and feels like cotton.
The fabric has a bit of stretch to it.
The pockets are plentiful without compromising the shape.
UPF 50+
It packs small and resists wrinkles.
Although Royal Robbins provided me with a sample of the Discovery Skirt, the opinions expressed within this post are entirely my own.
Related links: Tilley Endurables: Travel Jersey Flip Skirt Review