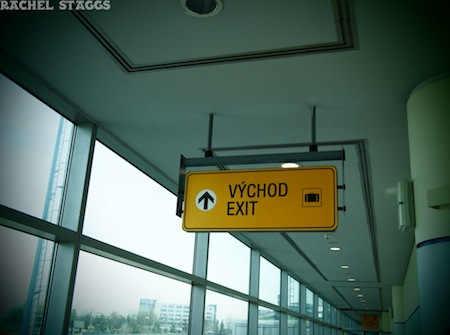 Upon exiting the plane in Prague, Czech Republic, I could feel I was in for something special. The first thing I noticed was their recycling system, which seemed more progressive and logical than any airport I've been through in the United States.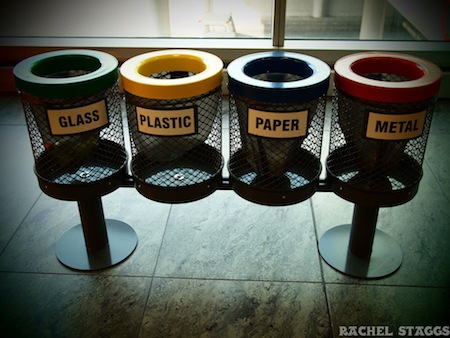 Luckily, we had several days to explore the city and recover from jet lag before we had to pick up our music equipment and rental car. After enduring my first negative experience using VRBO (blog post forthcoming), we found an amazing boutique hotel that felt like a 1960s art gallery. They were kind enough to let us test out the bed. I was sore and we had weeks of gigs coming up, so I threw down the credit card.
The Czech Republic is quite affordable when compared to Western Europe, and in the states, this hotel would have cost three times as much. It was a great treat. I finally slept well and we had a fantastic room to entertain our French friends in after our Prague performance, since they had driven all the way from Paris to see us play.
photo credit: Carlos Jackson
We had one of the larger rooms in the hotel since that was all they had left. There was a nice sitting area, mini bar, and desk with laptop provided. The shower and toilet were in two different spaces, separated by a hallway with a small balcony. Each bathroom featured Mickey Mouse pop art on the walls.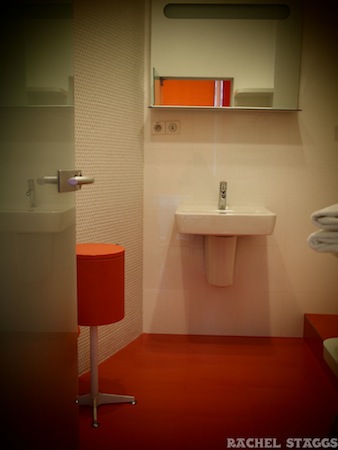 We took breakfast on the rooftop patio one morning and enjoyed a great view of Petrin Hill featuring Lookout Tower, Prague's Eiffel Tower.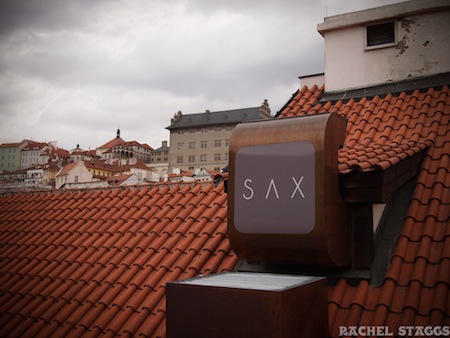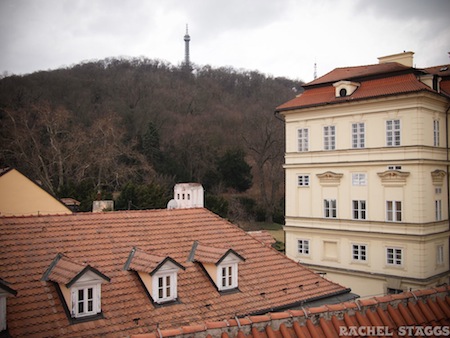 Design Hotel Sax features a great collection of vintage toys by designer Libuše Niklová, two Picasso drawings, incredible furniture from the 1950s-1970s, and a plethora of Cécka.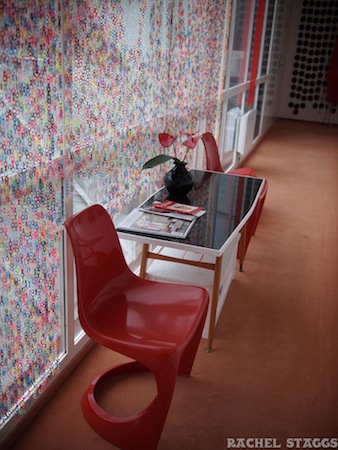 This is a window treatment using Cécka.
Cécka are pieces of plastic in the shape of the letter C (also S, H, 3, and G) that can be connected to create chains. They spurred a collecting craze in the 1980s amongst Czechoslovakian children. Originally they appeared, with no success, 20 years prior as part of a skirt belt and later as door curtains in small flats, instead of the usual wooden doors.
The C's ended up in dumps until discovered by children. Young people then began collecting Cécka and wore them as necklaces or bracelets and even played games with them. Some children used them as currency to trade for the more desirable, or more rare C's. Cécka played an important role in the lives of many children who were the last generation to experience the communist regime. In 2008, musician Michal David released an homage to the plastic phenomenon in the form of an electronic pop song.
<iframe src="http://rcm.amazon.com/e/cm?lt1=_blank&bc1=000000&IS2=1&bg1=FFFFFF&fc1=000000&lc1=0000FF&t=traveltracks-20&o=1&p=8&l=as4&m=amazon&f=ifr&ref=ss_til&asins=B004236NEI" style="width:120px;height:240px;" scrolling="no" marginwidth="0″ marginheight="0″ frameborder="0″></iframe>
I never expected to be writing about a children's collecting craze in 1980s Czechoslovakia, but that is just the kind of surprise that's waiting around every corner in Prague!