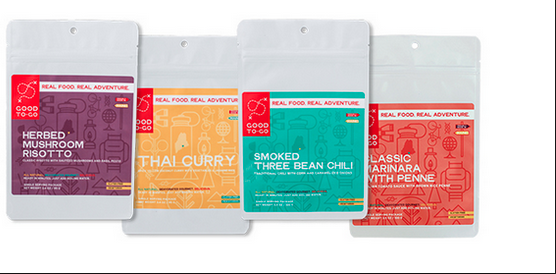 As much as my man and I go camping, we are actually pretty bad at it. We both love to camp, and hike, and kayak – and the thrill of sleeping outside frequently beckons us. The problem for us is usually poor planning. We're fairly spontaneous campers, and often throw everything in the car and get out of town for the weekend. This method, though very exciting, often leads to forgetting important items, arriving to over-full campsites after dark, or speed-hiking our way up a mountain. I'd like to say we'll change out ways, but, let's be honest, I'm not going to get organized anytime soon.
On a recent camping adventure, we had our usual mishaps. Late arrival, lack of preparation, flat tire, etc. Fortunately for me (and my stomach) we brought dehydrated meals from Good To-Go. All we needed to do to enjoy an outdoors meals was boil water.
Good To-Go makes gourmet dehydrated meals. The company was founded by Jennifer Scism, an accomplished, good-food-focused chef, promises to fill it's backcountry food pouches with ingredients we can recognize, pronounce and feel good about eating. Supportive as I am about eating food I recognize, I'm, first and foremost, concerned about the flavor. Nothing kills the campfire-induced mood better than eating partially cooked, cardboard flavored spaghetti and meatballs from a bag.
I was pleasantly surprised by Good To-Go. We had both the Thai Curry and Mushroom Risotto – both tasted like something I might make at home. There were no funny flavors or unidentified objects. We did struggle a bit with texture – a few pieces of rice weren't fully cooked, and the curry was a bit watery, but this didn't impact the flavor in any major way. I'm happy to report that I actually enjoyed eating this meal, I looked forward to it, and I would look forward to eating it again. If you're a dehydrated food eater, you recognize that this is a big compliment. I'd even consider bringing a Good To-Go meal to work on a day that I don't have time to make lunch. Yes, you read that right, I did just say I would willingly eat this dehydrated food outside of the forest.
Good To Go currently makes four meals dehydrated meals, Mushroom Risotto, Thai Curry, Three Bean Chili and Marinara with Penne. Each pouch is meant to serve one camper, and provides that camper with ample nutrition and energy for active outdoor pursuits. Good To Go is proudly made in Maine. You can purchase Good To Go online, or at several retailers on the East Coast.
Thank you to Good To-Go for providing these tasty treats for me to sample. All opinions expressed are my own.
Never miss a chance to eat, drink and travel with Wanderfood. Follow me on Facebook, Pinterest  and Twitter, and subscribe to my RSS.