I've been waiting patiently for zucchini to make it to the market. I realize that summer in Seattle means a lot of zucchini, and in a few weeks, I'll be tired of cooking with it, but for now, I'm excited for the mild sweet flavor that brings a burst of summery freshness to multiple dishes. This simple summer pasta with zucchini and parmesan is a summer time staple for me. It comes together in a just a few minutes, utilizes the natural fresh flavors of the zucchini and cheese, and will please even the most health conscious eater on your roster.
Ingredients:
1/2 of a package of fettuccine
1 Teaspoon olive oil
1 clove of garlic, minced
1 Teaspoon red pepper flakes
2 medium zucchinis
1 Cup cooked white beans
1/2 Cup Parmesan cheese
Salt and pepper, to taste
1 Tablespoon butter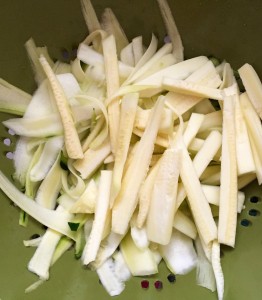 Directions:
Cook and drain pasta according to package directions.
Using a vegetable peeler, shred zucchini into long strips. I like to shred mine right into a strainer so the liquid can start to drain out right away. Depending on your zucchini, you may need to squeeze out the excess liquid with your hands. Add a pinch of salt and let sit over the sink.
Meanwhile, heat olive oil in a heavy bottom skillet over medium heat.
Add red pepper and garlic to oil and cook until the garlic is fragrant, about 3 minutes.
Add the white beans and cook until they are browned, about 5 minutes more.
Remove the white beans, red pepper and garlic from the pan, add zucchini and cook until slightly softened, about 3 minutes.
Combine pasta, white beans, zucchini together in a large bowl. Add butter and parmesan cheese; toss until incorporated. Add salt and pepper as necessary.
Enjoy!