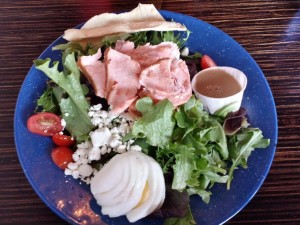 Olympia brewers have a big name to live up to, the iconic Olympia Beer is still a point of pride for Washington State's Capital city, even though it was bought out in 1984 (it is no longer operative). The challenge of pleasing citizens who pride themselves on beer drinking hasn't staunched the growth of Three Magnets Brewing, a lively pub and restaurant recently opened in downtown Olympia. The large space serves both families and those over 21, has multiple taps and makes all of the fare in house (including smoking meat and baking bread from spent brewers grain).
As an Olympia native myself, I had to say I was fairly impressed. The space is open, beautifully decorated, and trendy enough to hang in the big city (well, Seattle). We had a meal there after enjoying Olympia's Parade of the Species on the patio. The huge crowd that poured in after the parade highlighted the desperate need for acoustics, but that's a nice problem for a new restaurant to have. The place is still figuring out a flow to handle large crowds, order both food and drinks at the bar, then listen for your name while you wait for both.
The food at Three Magnets may be better than the beer, but only because it's really good. It doesn't look like anything gourmet, and it's not meant to. It's pub food made like you made it at home – with actual ingredients rather than fillers and vats of oil. We had the bison burger, salmon sandwich and salmon salad – and enjoyed all of it. As a parade-time snack, Moonrocks and Toasted Corn. What are Moonrocks you ask? They are cheese curds that have been beer battered and served with jam. They are the most amazing thing I've ever eaten.
Fortunately for me, I have another watering hole to add to my list when I'm visiting my homeland. If you don't regularly frequent Olympia, perhaps you have another reason to travel there. Let us know your favorite Olympia spots in the comments below!
Never miss a chance to eat, drink and travel with Wanderfood. Follow me on  Facebook, Pinterest  and Twitter, and subscribe to my RSS.