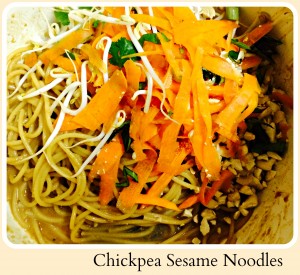 I may crave Thai noodles more often than anything else. It's one of my favorite things to eat at home, in my pajamas, while binge watching House of Cards. I hesitate to call this recipe "Thai," as I have no idea how to cook Thai cuisine. However, the flavors do remind me of my favorite noodle dishes, and making it is almost as easy as ordering it! This recipe for chickpea sesame noodles serves two, or just me.
Ingredients
1/2 package spaghetti noodles (I used whole wheat)
1 can chickpeas/garbanzo beans drained
1 clove garlic
2 Tablespoons Tahini
2 Tablespoons soy sauce
1 Tablespoon sesame oil
2 carrots, shredded
1/2 Cup bean sprouts
1/4 Cup Thai basil, chopped
1 Teaspoon red pepper flakes
1/2 Cup raw peanuts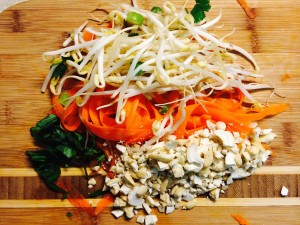 Directions
Cook spaghetti according to package directions.
In the meantime, combine chick peas, garlic and tahini in a food processor until creamy (yes, you are making hummus. Feel free to save some to snack on later. If you don't want to make hummus, you can use store bought hummus as well!).
Combine freshly made hummus, sesame oil, soy sauce and red pepper flakes  in large bowl, whisk until blended
Drain spaghetti and reserve a bit of the cooking water.
Toss spaghetti with sauce, adding a bit of the reserved water to thin the sauce if necessary.
Toss with bean sprouts, shredded carrots and basil.
Crush peanuts (I put them in a plastic bag, then crush them underneath my wooden cutting board)
Top noodles with peanuts, any extra basil for garnish, and you have yourself a meal!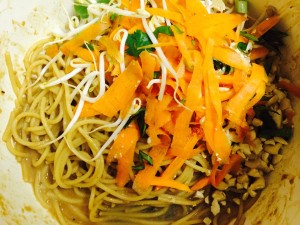 Never miss a chance to eat, drink and travel with Wanderfood. Follow me on  Facebook, Pinterest  and Twitter, and subscribe to my RSS.