Guess what? It's raining in Seattle. Nothing makes me want to stay at home and cuddle more than a rainy weekend. And, dreary as it may sound, a rainy weekend can actually be quite romantic. You might have to venture out of the house for some ingredients, but otherwise, stay in and cook one of these easy romantic meals for two!
Linguini Carbonara
Possibly my favorite pasta dish, I always save making linguini carbonara for special occasions, even though it's so easy to make. The keys to making this dinner stand out as a romantic feast? High quality bacon and parmesan, fresh parsley and homemade bread. I prefer the red wine version of carbonara, but white wine works well too.
My Favorite Recipes:
Linguini Carbonara by Food & Wine
Homemade Pizza

Want to make your pizza stand out from the greasy-cheese-carb-overload-crowd (not that there is anything wrong with that crowd)? Try making pizza at home, with unique ingredients for an easy romantic meal. Serve your creation with a fresh spinach, beet and goat cheese salad for optimum romance. Want to make your pizza extra-special? Make the sauce at home, it's super easy (especially if you have a food processor) and makes your meal so much tastier.  For extreme ease of cooking, use a cast iron skillet and pre-made tortillas for the crust–the finished product tastes like
restaurant style trendy flatbread pizza. My secret pizza topping combo? Homemade pesto sauce, thinly sliced potatoes, roasted garlic, caramelized onions and goat cheese.
My Favorite Crust Recipes:
Quick and Easy Pizza Dough, Mel's Kitchen Cafe
Serious Eats–Use Your Cast Iron Skillet to Make Pizza Dough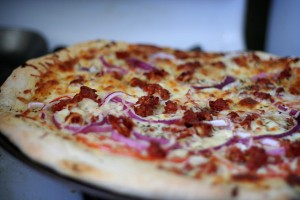 Mussels

A huge pot of homemade mussels with a side of freshly baked bread signifies home-cooked mastery, but mussels are super easy to make. There is something about eating mussels that turns up the romance as well, you have to use your hands, you share a big pot, they go great with crisp white wine – you get the picture. The key is buying them the day you're going to use them, so stop off at the store on your way home for the evening. I add fresh tarragon to mine, and use vermouth in place of the white wine. If you're going to add butter to the sauce, using a high quality butter is essential, I prefer Kerry Gold.
Favorite Recipes
A Cozy Kitchen-Steamed Mussels
Williams-Sonoma-Mussels Steamed in Belgian Ale
Prime Rib
Cooking a beautiful piece of meat is probably the trickiest thing on this list, but only because of the time it takes to cook it. I rub rosemary and garlic all over the prime rib before it goes in the oven, then make mashed potatoes with the same flavors for a perfect combo.  I would serve this meal with a colorful side of whiskey-ginger carrots and a bold red wine, then let the romance begin!
Buying a high quality piece of prime rib for this meal is essential, and well worth the price. Beef tenderloin will work just as well as prime rib, but it's more expensive, and I personally love the fatty extras on the prime rib.
Favorite Method
Raclette
Raclette is a traditional swiss dish that involves melted cheese being scraped off the cheese wheel onto bread, potatoes and dried meats. I make it with a cast iron skillet, and try to use a few different cheese varieties to round out the flavor. I would use this romantic recipe as a basis for laying out a candle-lit picnic in the living room, baking a loaf of bread, buying some delightful prosciutto and olives and enjoying a glass of sparkling wine with my hunny. This may be the easiest romantic meal on this list because it involves very little cooking, and lots of food sharing.
Homemade bread–the warmer the better–takes this easy meal to the next level! I use this occasion to get fancy with my flavors– add some olives to my normal bread recipe and crust it with sea salt. This meal is another call for high quality cheese, as cheese takes center stage with this dish. I prefer the combination of Camembert and Gruyere but any cheese that melts well will do just fine.
Favorite Method
What's your favorite romantic meal? Let us know in the comments below!
Never miss a chance to eat, drink and travel with Wanderfood. Follow me on  Facebook, Pinterest  and Twitter, and subscribe to my RSS.
Photo Credits:
Untitled, Marko Milosevic, licensed under CC BY -ND 2.0
White Pizza, Ginny, licensed under CC BY – SA 2.0