White beans and leeks is a tried and true combination. Add cheese and you are pretty much guaranteed a perfect dish. I make a big pot of white beans pretty frequently, so am always looking for more ways to use them. I love Sprouted Kitchen's creamy white beans and leeks recipe – it's so simple and makes a wonderful side dish. I wanted something with similar flavor that would satisfy my need to eat copious amounts of feelings. Thank you comfort food feelings, for bringing this white bean and leek lasagna to life! Also thank you to the Sprouted Kitchen, for your wonderful flavor combinations.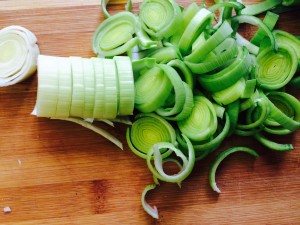 Ingredients:
2 Cups Cooked White Beans (I always use dry beans and cook them myself, but canned beans also work just fine, just make sure either type is drained for this recipe)
1 Bunch Spinach, roughly chopped
1 Large Leek (cleaned, green parts removed)
2 Cloves of Garlic (minced)
2 Tablespoons Butter
1/1/2 Cups Veggie Broth
1/2 Cup Heavy Cream
1 Bay Leaf
2 Tablespoons Flour
1/2 Package No-Cook Lasagna Noodles
1 Cup Freshly Grated Parmesan Cheese
1 Cup Grated Mozzarella
1/2 Teaspoon Red Pepper Flakes
Directions:
Melt half the butter over medium heat (loving that cast iron skillet for this) add leeks until they are just wilted, about 3 minutes. Transfer leeks to bowl.
Melt the remaining butter, add garlic and cook until it becomes fragrant.
Add white beans and cook until beans begin to get brown (and crispy) on the outsides.

Add red pepper flakes, salt and pepper to taste.
Add spinach and cover skillet until spinach wilts.
Transfer spinach and beans to bowl with leeks, toss to distribute.
Add veggie broth, cream and bay leaf to the skillet and boil over high heat. Mine totally boiled over. So watch it carefully! You're going for a thickening reaction to the heat, so keep checking.
Add flour and whisk until smooth. Boil again, until sauce is nice and creamy.

Get rid of that bay leaf and pour sauce over leek-spinach-bean mixture.
Add half of both cheeses to the mix.
Taste this and season with salt and pepper. I highly recommend tasting this delicious mixture more than you think you need to. Yum!
Assemble the lasagna! Start with a buttered baking dish, then layer first sauce, then cheese, then noodles. I got three layers!
Bake for about 30 minutes in a 350 degree oven. I like to make my lasagna the day before and let it sit in the fridge so the flavors can percolate, but you don't need to.
Enjoy!