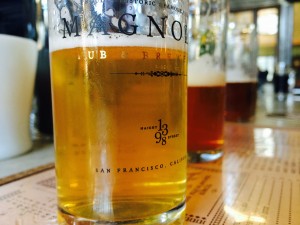 San Francisco is a delight, as I'm sure most of you are well aware. There is food, there is a great bus system and there is good beer. A delight is the city in normal circumstances, but I had the pleasure of experiencing the magic of San Francisco Beer Week 2015, and all the food that went along with it. Here is the best part – the food won't really change that much if you were to say, pop into one of these places, it is only the beer that will be gone away.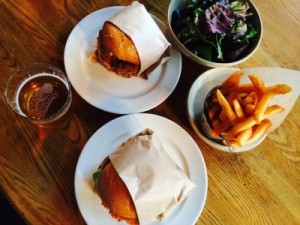 Naked Lunch. The first stop on our beer week events list, Naked Lunch sits just outside of Chinatown, in North Beach. The place was packed with happy hour goers come to enjoy the Almanac Brewing Tap Takeover. Because San Francisco was unseasonably warm and beautiful (yes, you should be jealous) we nabbed a spot on the patio and watched the world go by. Order at the bar, and don't skimp on the food. The burger is worth it, as are the fries. I consider myself a french fry aficionado, and I approve of the Naked Lunch version. The burger is topped with house made pickles (I love pickles) and manchego. Another thing I love? Garlic. There is green garlic aioli on this baby. A perfect dinner after a long day of walking in the warm sun. The old man had the Fried Chicken Sandwich, and while the chicken was tasty, I was glad for my burger. To wash it all down? The 'Valencia Belgian,' which was different than most Belgians I've tried. It was strong and floral, and had a more grape-y taste than I'm used to, but I liked it. People who enjoy a little bitter in their Belgian would approve.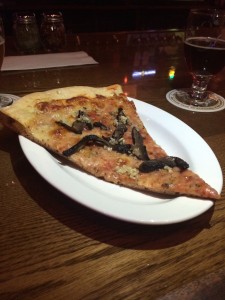 Pi Bar San Francisco. As you can tell, I had a really healthy day the day I sampled burgers, fries and pizza and beer all within a few hours, but, I am what I am. Pi Bar was the last stop on our self-directed beer week event tour, and was a perfect ending. Smack dab in the middle of The Mission District, Pi Bar is a craft beer bar and pizzeria, and I'm a little upset that it isn't located smack dab in the middle of Seattle. This place is certainly a bar, albeit one that serves up amazing beer, but they also serve really good pizza without all the pomp and circumstance of fancy shmancy ovens and stuff. Plus, they sell it by the slice, so an evening snack to stave off the hangover is easy to find. Who'd have thought, I tried a slice of garlic pizza, YUM. When that wasn't enough, a death by mushroom slice (that's really what it's called), sealed the deal. Mine was so good the kind folks sitting next to us at the bar ordered a slice for themselves. We were lucky enough to enjoy our slices with beers from Fort Point Beer Company, a rare treat for us Seattlelites.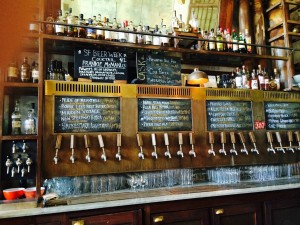 Magnolia Brewing Company: Dogpatch.  If you're going to San Francisco, and you like beer, you must go here. Magnolia Brewing brews a surprising amount of beer, and the variety is pretty impressive. Also impressive? The amazing bar/BBQ restaurant they've fashioned out of a warehouse. I wanted to move in, no joke. Besides an enticing selection of beer, the BBQ options are spicy, smoky and just delightful. I ate jerk chicken wings (that made me squeal with spicy flavor but they were so. good.), pork butter (which is not butter produced from pig milk-don't worry, I asked so you wouldn't have to) and biscuits. They were also roasting a goat for the beer week celebrations, which smelled pretty fantastic. The law of the bar is to line up for BBQ meats, which change daily, and southern sides, like potato salad, beans and mac and cheese. The brisket was amazing (says the Texas man I drag around with me). They also have sea salt chocolate chip cookies. There is nothing else I can say.
Never miss a chance to eat, drink and travel with Wanderfood. Follow me on  Facebook, Pinterest  and Twitter, and subscribe to my RSS.