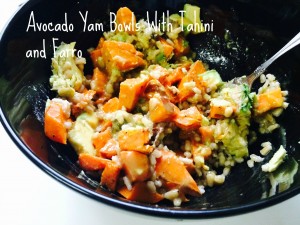 February has brought on some nicer weather in the Pacific Northwest, and I'm starting to come out of my winter eating slump. One trend I'm really loving this year is the migration towards 'bowl foods.' They seem to be popping up everywhere – food magazines, restaurants, health blogs – and I totally get it. There is a lot of freedom in creating a delightful bowl of goodness. It's easy to design whatever flavor combination you want with minimal cooking (thus minimal ways to mess it up). Most recently, I created this yam and avocado bowl with tahini and farro, taking inspiration from The Sprouted Kitchen's Tahini Dressing. 
As a side note, the Tahini Dressing recipe listed above is the bomb. I could eat it all the time, on all the foods. I don't quite follow the recipe for this dish, but making up a batch of the original version to have in the fridge is never a bad idea.
This  recipe is for just one bowl of goodness, because I like to make a bowl of lunch to enjoy all by myself. That doesn't mean you can't serve it to your people, you'll just need to make more sauce!
Ingredients:
1 Cup Cooked Farro (or really any grain you wish, farro takes a while to cook)
1/2 yam, cut into 1/2 inch cubes
1/2 avocado
1/2 bunch of kale
2 cloves of garlic, minced
salt and pepper to taste
1/8 cup tahini
1 teaspoon olive oil
1 tablespoon agave nectar
1/1/2 tablespoons apple cider vinegar
Directions:
Preheat oven to 350 degrees and spread yams in one layer on baking sheet. Toss with olive oil, salt and pepper.
Bake yams until fork pierces them, about 30 minutes.
Cook farro according to package directions. I use a rice cooker because I'm surprisingly terrible at cooking grains by myself.
Wilt kale in skillet with a pinch of salt, olive oil and 1 of the cloves of garlic.
Toss wilted kale, finished yams and avocado together, along with the cooked farro.
Whisk tahini, olive oil, agave nectar and apple cider vinegar together. I add the tiniest amount of water for this bowl because I enjoy a thicker sauce. Feel free to add more if you are looking for a more vinaigrette feel.
Pour sauce over veggie and grain mixture and enjoy!