Hi, I'm Carlye. I'm so excited to be signing on as the next Wanderfood blogger. Let me introduce myself and explain my obsession with food and travel writing before diving in to more recipes, reviews and all things edible. I hope you'll keep reading, responding and sharing your own insights into the world of Wanderfood as the blog goes on. I'm so glad you're here!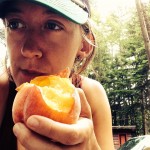 A fascination with seeking out, creating and enjoying food has always been a major part of my life, a positive ritual worth so much more than just sustaining energy. My obsession with excellent food started with my days as a highly active adolescent who could shovel seemingly endless amounts of food into a continuously gangly body. Though my teenage metabolism has slowed significantly, I still eat, a lot, and justify my intake with  a regimented exercise habit that lets me eat and drink with abandon. My rules for food are limited–food snobbery makes me angry–but I do have a few. No mayo-based salads, out-of-season tomatoes or corporate beer. If you are looking for these three things alone, I apologize, and, we probably won't get along.
As I continue to explore what the world of food and drink has to offer, I sincerely appreciate my opportunity to experience the world through taste. We are, more and more, isolated from our food sources, and have limited access to knowledge and education about where our food comes from. This lack of control over what we put into our bodies can feel paralyzing at times, but engaging with food is my way to take back control. Enjoying a meal, putting forth effort to keep appreciating the culture that gets shared over a great experience and writing about the art of great food is vital for more educated eaters.
Eating is fabulous, obviously, but more important than simply enjoying a meal is the ultimately intimate and culturally educational experience of dining out. Restaurants, pubs, breweries, cafes and wineries are the heartbeat of communities. They are meeting places, conversation starters, reasons for people to connect without technology. Traveling, for me, means eating well, means trying new things, stopping off to see what powers the people of the world through their busy days. Beyond traveling, food allows people to remember cultures, moments, places without ever really leaving. Food has the magical power of working both ways — it can bring people home without a plane ticket and introduce completely new experiences to adventurous eaters.
When I'm not exploring, I cook at home 3-5 nights a week. Keep in mind that "cooking at home" is sometimes loosely defined as making a pot of popcorn and drinking some craft beer. I approach the kitchen with fewer romantic notions and the same degree of gusto as my approach to eating—this leads to the occasional gloopy sauce and overcooked entree, but a glass of wine usually cures the problem. I believe that we would all cook more if we weren't so afraid of messing up, and think that recipes should be rough guidelines, rather than strict rules. This isn't to say that cookbooks are of no use—I read them like novels, but better than fiction, I create my version of the most exciting stories the next day. Though I may seem wild and haphazard in the kitchen, I like to cook alone, support can come from onlookers bearing alcoholic beverages. The man in my life knows to stand far back from the work being done, my kitchen tunnel vision appears and art is made amid chaos.
I'm so excited to start this project, and am certain I'll be learning and sharing experiences right alongside my readers. I hope to hear from you too! What do you want to read about food?
Never miss a chance to eat, drink and travel with Wanderfood. Follow me on  Facebook, Pinterest  and Twitter, and subscribe to my rss.