When one sees a sign that says "The Best Ice Cream in San Francisco" followed by the words "locally made" one simply has to check it out. I did exactly that over the weekend and boy was I rewarded for my curiosity!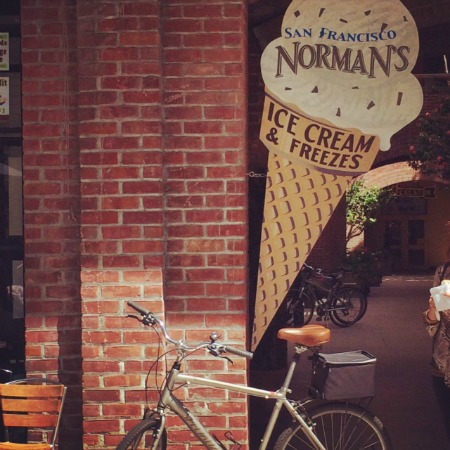 Norman's Ice Cream, in the Fisherman's Wharf neighborhood of San Francisco is a classic hole-in-the-wall find. Founded in 2001, this tiny little shop specializes in a variety of ice cream related goodies including smoothies and hot fudge Sundaes (winner: Best Hot Fudge Sundae, 2011; SF Weekly). While I didn't try a sundae, I would agree that this is some of the best ice cream in San Francisco I've encountered. A perfect offering for these hot Spring days (and we don't exactly get many in San Francisco! Lately the fog has been rolling in with a vengeance at the end of the day).
Colorful and cheerful it's the type of place that I love stumbling upon. It has a quirky sensibility coupled with a "little-engine-that-could" personality. Chugging along with a big smile despite being squished next to an enormous Cannery, and opening out into a tucked away square.
So many delicious choices!
I ordered a strawberry ice cream in a waffle cone and it was DELICIOUS. I love strawberry ice cream when it has a nice sugariness, prominent natural strawberry flavor and sizable chunks of the fruit. Norman's delivered on all accounts. Besides the ice cream, it was one of the best constructed waffle cones I've ever had. Almost no drips!
As much as I loved the strawberry ice cream I was disappointed that I ordered it before I noticed a bright purple concoction in the case to my left. Looking like something out of a cartoon, it was called"Ube" just sitting there chilling out (heh heh) next to the Chocolate Caramel Crackle. PURPLE YAM ICE CREAM everyone. My foodie curiosity will not be satiated until I go back and try it.
Norman's Ice Cream Selection, including Purple Yam. It's PURPLE. I can't get over it.
As we enter into Summer, my search for the best ice cream in San Francisco will be heating up (no pun intended. I've reached my pun quota for this post already). Yes, even though what we have for "summer" in San Francisco what Mark Twain famously called "the coldest winter he ever spent." Any suggestions on where I should try next?
Eat Well, Travel Well ~ Samantha