Recently Yahoo Food ran an entertaining piece on Breakfast Around the World. So interesting how we all eat the same basic structure (breakfast, lunch, dinner), yet culturally we all create such diverse meals. Elevensies anyone?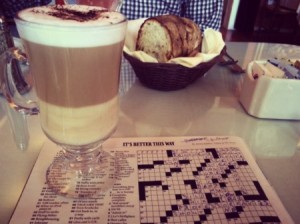 I do have to give the article one slight criticism. Having lived in Australia for over two years, they could have been a little more imaginative than going the Vegemite route. Granted, Australians do eat Vegemite regularly, but we had some fabulous breakfasts there, almost all of them involving a grilled tomato…we never could quite figure that out. But in any case, breakfast in Australia certainly goes well beyond Vegemite.
We became particularly fond of Museli, a cereal dish similar to oatmeal, but a great deal more tasty in my opinion! It has a lot of ingredients and can be served in a variety of ways, but my favorite is when it's thick and creamy, not too watery. And it's DIVINE with dried cranberries.
One of my favorite breakfasts I've ever had was in Romania on a working farm, back in 2008. It involved fresh (and I mean FRESH) eggs and milk, home grown vegetables and home-made bread. It was such a wonderful meal! I love anything that brings me closer to the earth, closer to where my food comes from and give me that wonderful sense of community. The grocery store just doesn't seem to have the same effect.
Unfortunately I was not in Romania this weekend, but I did have family in town and we celebrated Sunday morning with a wonderful brunch at The Magic Flute in Laurel Heights!
This outwardly unassuming gem is a true delight. Stepping inside was like entering a chic old fashioned restaurant where socialites might have dined in the 1930s, but with some nice whimsy thrown in. It doesn't have a stuffy or pretentious atmosphere–quite the opposite! Rather it evokes a fantastic sophistication but with a modern quirkiness. There are two small dining rooms and then it bursts open to an outdoor area with a lot of sunlight and a lovely fresh feel with leafy greenery everywhere. A classic San Francisco brunch destination that I would highly recommend. And the service was excellent!
I had a delicious egg scramble with, wait for it, MELTED BRIE CHEESE.  I was in heaven.
Have you experienced a memorable breakfast around the world? What does your family enjoy for breakfast? Share your experiences below!
It's WanderFood Wednesday! Share a link to your blog below and join the WanderFood community where we share in some link love and of course our favorite thing of all: food!
<!– start LinkyTools script –>
<script src="http://www.linkytools.com/thumbnail_linky_include.aspx?id=229426″ type="text/javascript"></script>
<!– end LinkyTools script –>