There's something irresistibly romantic about chocolate, and when made like this even more so. Enjoy!
Ever since I saw the movie Chocolat, I've been enamored with the idea of spicy hot chocolate. I love the thickness, creaminess and less sugary taste it has and the spice element gives this classic drink such a unique flavor profile. I've made it a couple times before, and this time adapted a recipe from a recent New York Times article. Compared to other recipes, this one had less kick, spice-wise, but still had great flavor from the Ancho Chile Powder, which I've never used before.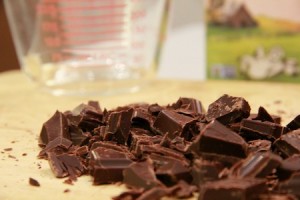 Ingredients
3 ounces bittersweet chocolate  – I used 70% on the author's recommendation
2 Tbsp unsweetened cocoa powder
2 Tbsp sugar, or to taste
3/8 tsp ancho chile powder, or to taste
1 3/4 cup whole milk
1/4 heavy cream
1 cinnamon stick
1 tsp vanilla extract
Marshmallows or whipped cream, optional
Directions
1. In a medium saucepan off heat, whisk together chocolate, cocoa, sugar and chile. Place pan over medium-low heat and whisk until chocolate begins to melt. Slowly whisk in milk, then cream. Drop in cinnamon stick and bring to a simmer.
2. Remove from heat. Cover tightly and steep for 1 hour. Whisk in vanilla. If you like it less sweet, add a little less than called for and taste for sweetness as you go. You can always add more if needed but you can't take it out!
3. Re-heat for a couple minutes (not too long or it will burn. It should still be fairly warm after the hour steeping) over low heat before straining and serving. Add marshmallows or whipped cream if desired.
BONUS: If you don't finish all the hot chocolate in one sitting, store it in the fridge for 24 hours or more and it stiffens to a scrumptious pudding consistency–a perfect afternoon snack or dessert!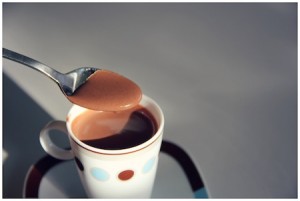 It's WanderFood Wednesday! An opportunity to share your inner foodie and get exposure for your blog while helping others do the same. Show us some link love and post your Wednesday, food-themed blog below!
<!– start LinkyTools script –>
<script src="http://www.linkytools.com/thumbnail_linky_include.aspx?id=226826″ type="text/javascript"></script>
<!– end LinkyTools script –>