The cupcake craze has been sweeping the nation for the past few years, and while some are sick of it, or think it has already become cliche (isn't it crazy how fast this happens now?), who could deny the unpretentious loveliness of a cupcake? I mean they're individual little cakes, sometimes with a delightful filling and topped with one of my favorite things in the world: icing. What's not to love? I had a bit of a trying day yesterday and so thought I'd take myself on a search for cupcakes in San Francisco, and Sift Cupcakes did not disappoint.
So, yesterday I woke up to a ticket on my car. Then I tried to go to the Herring Festival in Sausalito but it was rained out. And THEN I tried to find a restaurant that apparently exists in a parallel universe because my GPS said I'd arrived at my destination, but all there was between me and the direction I was supposed to go was a freeway entrance. Thanks, Siri…thanks a lot.
Driving home feeling frustrated (and very wet from wandering in downtown Sausalito in the rain), there was one thing I thought of to cheer myself up: cupcakes! I took myself to Sift, an adorable little shop on California and Fillmore. Stepping in out of the wet weather, I felt pure joy at the soft pink colors and the classic feel of the place. That classical feel is accompanied by a fantastic sassy sense of humor that sends Sift soaring into the modern day. It's a perfect marriage between old and new, classic and updated, a pairing that is often at odds with one overshadowing the other, especially when it comes to something so simple.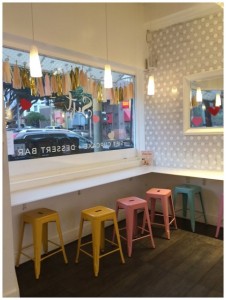 Started in the Northern California, Sift was founded by Andrea Ballus who took matters into her own hands when she had a struggle finding cupcakes to serve at her wedding. Needless to say she found a perfect niche and ran with it, serving up unique flavors and flair from day one. You may have seen her and her team compete (and win!) on Cupcake Wars. With locations in Napa, Santa Rosa, San Francisco and Cotati, and a new location opening this week in Petaluma, Sift is a true Bay Area treasure. Be sure to check them out here: http://siftcupcakes.com/
I bought four delicious cupcakes: Snickerdoodle, Ooh La La (Red Velvet), 24 Carrot, and The Sky is Falling (chocolaty goodness). My favorite was the Snickerdoodle, mainly for the frosting — it had a lot of cinnamon and a perfect balance of creaminess.
Whatever your opinion is on the "cupcake craze" there's nothing like some cream-cheese frosting and vanilla cake to make a bad day look up. 🙂