Being from California, a love of avocados is in my blood. Other than their unique, fantastic taste, they're also incredibly healthy, being full of protein and really good fats from the oil in them. While avocados are super versatile, one of my favorite uses for them is guacamole, so I thought I'd share some of my tips and tricks for making truly outstanding guacamole!
1) If you're like me, and making things up is a bit daunting, find a really good guacamole recipe. This recipe is inspired by CaliforniaAvocado.com and one of the best I've found for its excellent balance of spices.
2) Use a pastry cutter to fold in ingredients. This actually happened by accident today as I put in the tomatoes before deciding to try the pastry cutter to better break down the avocado. It quickly became apparent that I held in my hand the PERFECT tool for getting all the flavors blended throughout; letting the aromatics of the onion, the flavor of the garlic, the spice tones of the cayenne and Serrano chile, and the tartness of the lime become perfectly balanced.
3) Use ripe but not mushy avocados. This probably goes without saying, but if you like chunky guacamole, as I do, using ripe avocados that are easy to cut and peel but not super soft really helps keep the flavor of the avocado as the star.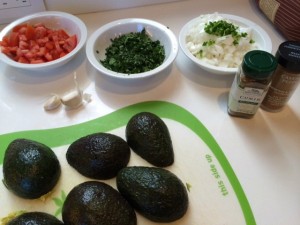 Ingredients
4 ripe avocados, seeded and peeled
3 limes, juice only
2 medium tomatoes, chopped (I used Roma tomatoes, but any will do)
1 medium white onion, chopped fine
1/4 tsp. ground black pepper
1/2 tsp. salt
2 cloves fresh garlic, minced
1/8 tsp. cumin
1/8 tsp. cayenne pepper
Pinch sugar
1 Serrano chile, chopped fine
1 bunch cilantro, chopped
Instructions
1. In a medium bowl, mash avocados with a fork to desired smoothness (I like it chunky!)
2. To avoid the avocados from browning, sprinkle a little lemon juice before immediately mixing in remaining ingredients (using pastry cutter if desired)
Guacamole is one of those fantastic dips that really is under your complete control. You can make it more spicy or more mild, more blended or more chunky, more limey or less limey, etc. For example, while I like kick, I like it to be subtle, so I took all the seeds out of the Serrano, leaving just a nice flavorful spice instead of a super hot spice.
One of the most ingenious parts of this particular recipe is the pinch of sugar. It's not enough to make there be any sweetness in the taste, but it balances everything out just beautifully, from the tart of the lime to the spice of the pepper.
What are some of your favorite dips? Do you have a secret ingredient you use for guacamole that makes yours stand out? Share your tips in the comments!