New Year's Eve, December 31st, 2013.
New Year's Eve is a time for looking back and counting the blessings of the past year. But, since this post goes live on January 1st – the time for looking forward and beginning anew, I'll try to bridge the gap. I am making a new beginning this January 1st: I'm leaving WanderFood. Like the 90's song goes, "Every new beginning comes from some other beginning's end," and it's Closing Time for me and food blogging. At least, for now.
This past year has been one of the most eventful of my life – and that's counting the year I took my round-the-world trip to England, India and Japan. In 2013, I attended a Cordon Bleu dessert class, and devoured Beaver Tails and P.E.I. oysters in Ottawa, memorized the flavor of Bunny Chow in Swaziland for future reference, wrote down the recipe for Matapa in Mozambique, and tasted a Bobotie pannekoek in South Africa. In Boise, Idaho, I smothered croissants from Le Café de Paris with jam from "The Jelly Lady" – jam that I consider to be "destination food." And, in Austin, Texas, I discovered the magic of breakfast tacos, BBQ, and duck fat fries topped with a poached egg at The Salty Sow (well, technically, a sous-vide egg).
While the foods I've eaten this year have stuck with me (literally – I gained 20 pounds), it's the people I met along the way that have truly made this year of blogging for WanderFood one of the most significant of my life. As I finished my first paragraph of this post, my friend and fellow blogger, Marc Smith of 30 Day Adventures called to say hello. We met while exploring Ottawa's "Sweet versus Spicy" food scene with a handful of other truly fabulous bloggers and hit it off so much that when he got a chance to fly off to Idaho, he suggested I come along with. Oh man, the memories. And that Vesper 10-minute Martini at Chandler's…
Also while in Canada, I finally got to meet some of the amazing women in the Wanderlust & Lipstick blogging community: Angie Hilbert (WanderLit), Rachel Staggs (Wandering Artist), and Ellie Geronikolos – before she was brought on to write Short Stops. I also got to reconnect with Sarah Shaw (WanderShopper), and the ever-inspiring Beth Whitman. It has been a deep honor and a privilege to write alongside these adventurous women, and I know that long after this last post goes live, we'll continue to inspire and support each other. It's what friends do. And I've made so many friends here. Nancy, Bella, Beth S., Elizabeth and Daytona, Angela, Nicole, Sabra, Joslin, Lanee, Alana, Angie, Rachel, Sarah, Debby and Louise – you've all made the WanderBlogger community a truly charmed space on the internet. I'll definitely keep in touch!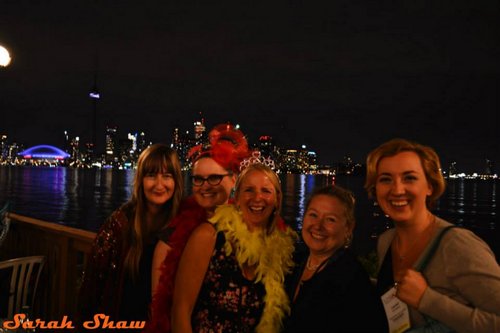 To the new Wanderbloggers I haven't yet had the pleasure of meeting – it's a small world on the internet. And if I can ever do anything to help you, count me at your service. The secret password is Wanderlust.
Ah – but I promised to not only look back in this post, but to also look to the future. What will I be up to? Dieting, for one. Food blogging takes its toll on the waistline. I'll also be buying a house with my husband in the San Diego area, planning a trip to visit Marc Smith in Vancouver, building a chicken coop so I can always "Put an Egg on It," and, I'll be devoting my full attention to writing for other people as ghostwriter, copywriter, and resident Muse at CopyMuse.
Wander Hungry my friends.