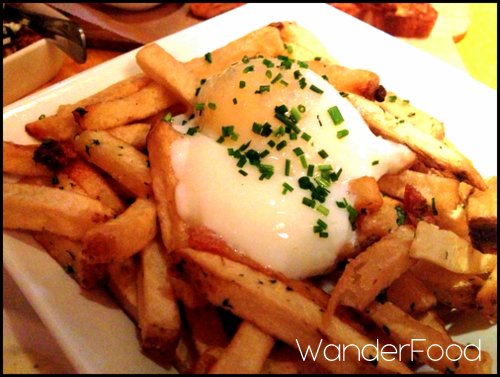 Sometimes, Santa Claus takes the form of book publicists. I'm convinced. Because, on Christmas Eve, I received one of my favorite all-time Christmas gifts: Put an Egg on It: 70 Delicious Dishes That Deserve a Sunny Topping
 by Lara Ferroni.
According to the handwritten note tucked inside the front cover, Haley (the publicist/Santa's elf) stumbled across my post where I waxed poetical about my obsession over poached eggs and decided I "absolutely must have this new cookbook!"
Haley – this is the greatest, most wonderful cookbook I've ever been given in my life.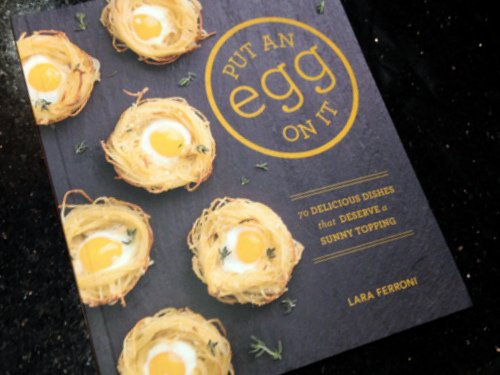 Poached eggs on nearly every page. And if they're not poached, they're meringued, sunny-side up, or scrambled. They're on deep-dish pizza, in pesto, smothered in spicy shrimp and grits, gracing chicken potpie crusts, and there's a duck egg that creates the focus of a rich San Marzano tomato risotto – but, my favorite recipe is this:
Spicy Thai PBJ&E
Picture this. A sandwich based on pad thai with orange marmalade, sriracha, tamarind paste, peanut butter, fish sauce, Thai basil leaves, bean sprouts and a soft-boiled egg – all on challah bread.
I KNOW.
It also has basic information like how to poach an egg, or hard-boil, or soft-boil, or how to make a basic meringue or an Italian meringue. This book is magic.
Am I biased? Heck yes. Anyone as obsessed with poached eggs as I am (I cannot WAIT to get my own chickens!) would be crazy not to have this book on their shelf.
Thank you so much Christmas Elf Haley!  Put an Egg on it couldn't have come at a better time, or to a more appreciative blogger.
Merry Christmas!