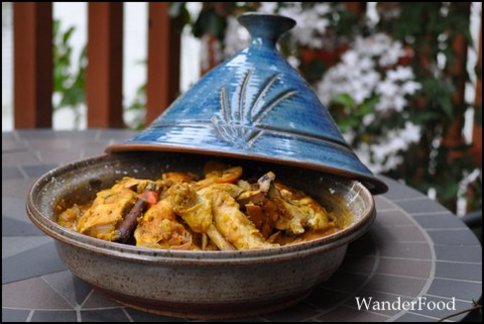 I had planned to have two other couples over on Monday night for dinner and board games, but two by two they dropped out for various very good reasons. So my husband and I were left with vegetarian tagine – enough for one dinner and two lunches – and were all dressed up with no one to impress. A very sad end for a very good tagine, but at least I get to share my favorite vegetarian tagine recipe here.
What I love about Moroccan tagine is that it follows what I believe to be the Belgian model of cooking: throw in everything but the kitchen sink (maybe that's just my Belgian family). The ingredients list is so long that if you actually buy everything you need, you'll be able to make nearly every recipe on the face of the planet for the next six months. But, you can also just use what you have and leave out what you don't. It's a wonderful recipe for vegetarian guests and informal dinner parties. That is – if you can get your guests to show up!
Tip: Mix the spices in a small bowl and add in slowly to taste. It's definitely possible to over – or under- season this dish.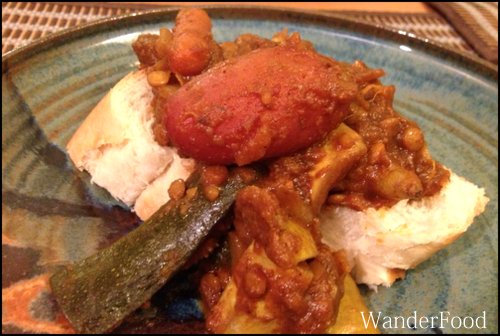 Vegetarian Tagine
Ingredients:
Olive oil (to coat the bottom of the tagine)
1 large onion, chopped coarsely
1/2″ ginger, chopped fine
2 cloves garlic, chopped fine
1/2 tsp ground turmeric
1 tsp ground cumin
1/2 tsp cayenne pepper
2 tsp cinnamon
1/2 tsp cloves
1 tsp ground cardamom
2 tsp kosher salt (optional – leave out if you use salted vegetable broth)
1 tsp ground ginger
1 pinch saffron
1.5 tsp garlic powder
1 tsp coriander
1 handful baby carrots (or carrots chopped into chunky quarters)
1 yellow squash, chopped into chunky quarters
1 medium-sized zucchini, chopped into chunky quarters
1 sweet potatoe, chopped coarsely
fingerling potatoes
zest of 1 lemon
a dash of honey
1 Tb tomato paste
low-sodium vegetable broth
1/2 cup lentils
Crusty French Bread to serve
*Optional: Throw in dried apricots at the last minute – they add a delicious sweetness to the spice!
I use my Clay Coyote tagine, which I cook with directly on the stove top, but a dutch oven will also work. First saute the onions, fresh ginger and fresh garlic until the onions are nicely browned. While the onions are browning, mix together all of the spices.
Add in half of your spice mix, reserving the other half for seasoning to taste later. Stir, allowing the spices to heat with the onions, then add all of the vegetables. Add about 1 cup of broth. Cook, covered, over low heat for 20-30 minutes.
Add lentils (they act as a thickener to the sauce and add much-needed protein), lemon zest, honey and tomato paste and stir. Cook for another 20 minutes, until potatoes are tender.
Traditionally, tagine is eaten by hand, using crusty bread to grab the chunks of vegetable and meat. But for a more elegant (in the Western sense) presentation, I sliced my French bread into thick, hearty pieces and spooned the tagine over them to be eaten with knife and fork. Tagine, at its core, is stew – and stew is never pretty. But, it worked out to be as attractive a presentation as I've seen.
Well, the dinner party was a bust – but hey, it could have been worse. Remind me to write about the time I cooked a DUCK with brandied cherry sauce for Christmas dinner and only one person showed up.
Don't leave me hanging for the WanderFood Wednesday Link Party – add in your link below! All food and travel posts are welcome.