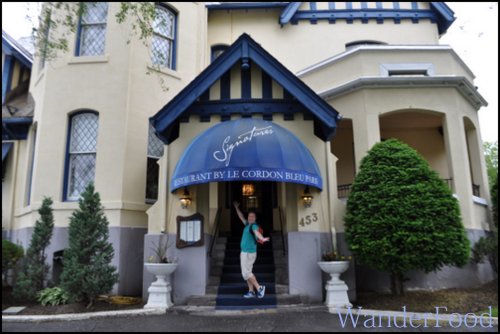 Le Cordon Bleu, the world's most famous cooking school, has outposts all over the world – but only 3 of them have restaurants. The Cordon Bleu in Ottawa is one of them, which means for $26, you can have lunch made by a Cordon Bleu-trained chef. Not bad if you're in the area, but for tourists wanting to take Cordon Bleu back home, the best way (aside from abducting a hot French chef…) is to take a class in Cordon Bleu desserts. (The Cordon Bleu showroom model up there is my friend Marc Smith who is currently recounting his 30 Days in Ottawa).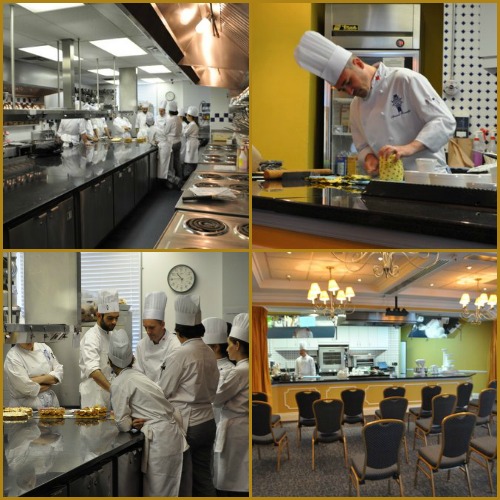 That handsome fella on the upper right is Chef Arnaud Bonnefoy, the pastry instructor. Yummy. That thing in his hand is a pineapple being prepped for "Ananas Poche au Sirop Epice, Financier Pistache" (poached pinapple in spiced syrup with pistachio financier – for those who missed that day of French class).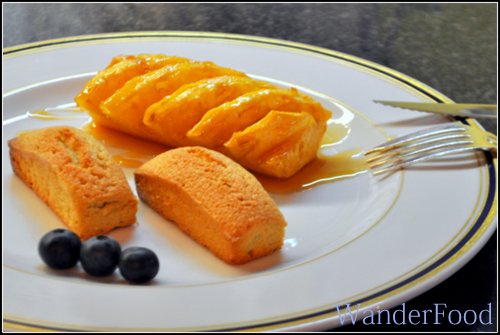 It is in my Top Ten All-Time Favorite Desserts – it is that good. Cordon Bleu, however, doesn't give out recipes even to their students – only ingredients with amounts, because the emphasis is on mastering the technique rather than learning a recipe. It's what separates the school from a cookbook, so I see their point. I won't re-post their exact recipe to respect their proprietary rights, so here is the version I made at home, done party-finger-food-style for book club.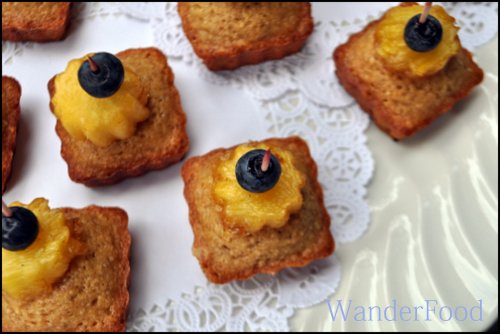 Cordon Bleu Inspired Pistachio Cookie with Poached Pineapple in Spiced Syrup
Makes 20 pistachio cookies when using Chicago Metallic 26635 12-Cup Lift & Serve Single Squares Pan
(Would also work in a muffin pan, mini-loaf pan, or mini-muffin pan – experimentation is encouraged!)
Prep and Cook Time: 3 Hours on 1st attempt
Ingredients for Spiced Syrup
4 Cups Water
2 Lbs brown sugar
Zest of 1 lemon
Zest of 1 orange
Seeds of 1 vanilla pod
3/4ths Cups rum (yum!)
3 Pcs star anise
6 cloves
4 cinnamon sticks
2 inches fresh ginger, chopped
1/4th tsp whole white peppercorns, lightly ground
Seeds from 6 cardamom pods, lightly ground
Directions: Place all ingredients in a very large pot and set to simmer and reduce while you do everything else.
Ingredients for Pistachio Cookie
Directions: Preheat oven to 350 degrees. Brown your butter in a frying pan (pay attention so you don't burn it!). Then, combine the dry ingredients in a mixing bowl. Add egg whites and pistachio paste, then pour in the browned butter and stir (or mix) until well combined. Leave batter covered in the refrigerator until ready to pour into your pan. Bake at 350 degrees F for 15 minutes, or until the tops are lightly browned.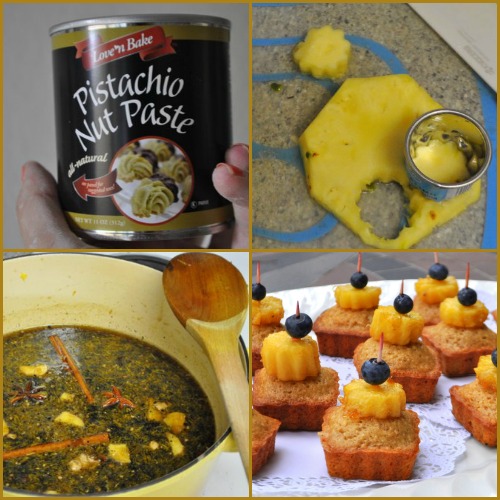 What to do with the Pineapple
Cut the spiky hide off of your pineapple, leaving as much flesh as possible. To achieve the Cordon Bleu spiral effect, take a sharp paring knife and trim away the indentations (you'll see dots if you haven't cut too deeply) following a spiral pattern. To do it my way, cut your pineapple into 1/4″ thick slices and cut with a cookie cutter. Soak pieces in the spiced syrup, then transfer to a baking sheet lined with parchment paper. Bake at 350 for 15 to 20 minutes.
Reserve the remaining syrup to drizzle over the top of your finished dessert and don't forget to garnish with fresh blueberries! Then use more leftover syrup to make yourself a killer Mint Julep.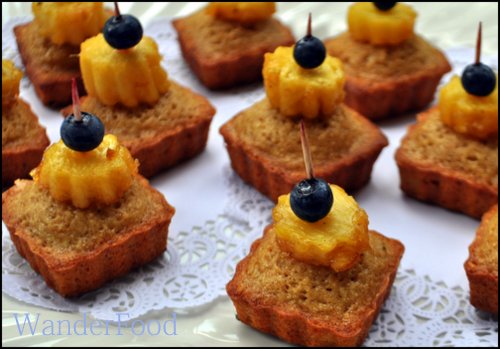 This pistachio pastry pineapple dessert recipe is one of my favorite souvenirs from my Ottawa trip.